HDMI Over Cat6 Supports Viewing Security Cameras and Controlling DVRs from Multiple TVs
This article explains how to use an HDMI over Cat6 cabling system to view security cameras and control surveillance DVRs from multiple TVs. In addition to acting as an HDMI to Cat6 splitter, the system also supports IR remote control transmission back to the DVR. This allows you not only to display your cameras in multiple rooms, but also control all functions of the DVR using the wireless remote control.
Please note that we are using an iDVR-PRO hybrid HD security camera dvr in this example, but the setup process is the same for any CCTV DVR, NVR, or other HDMI output device.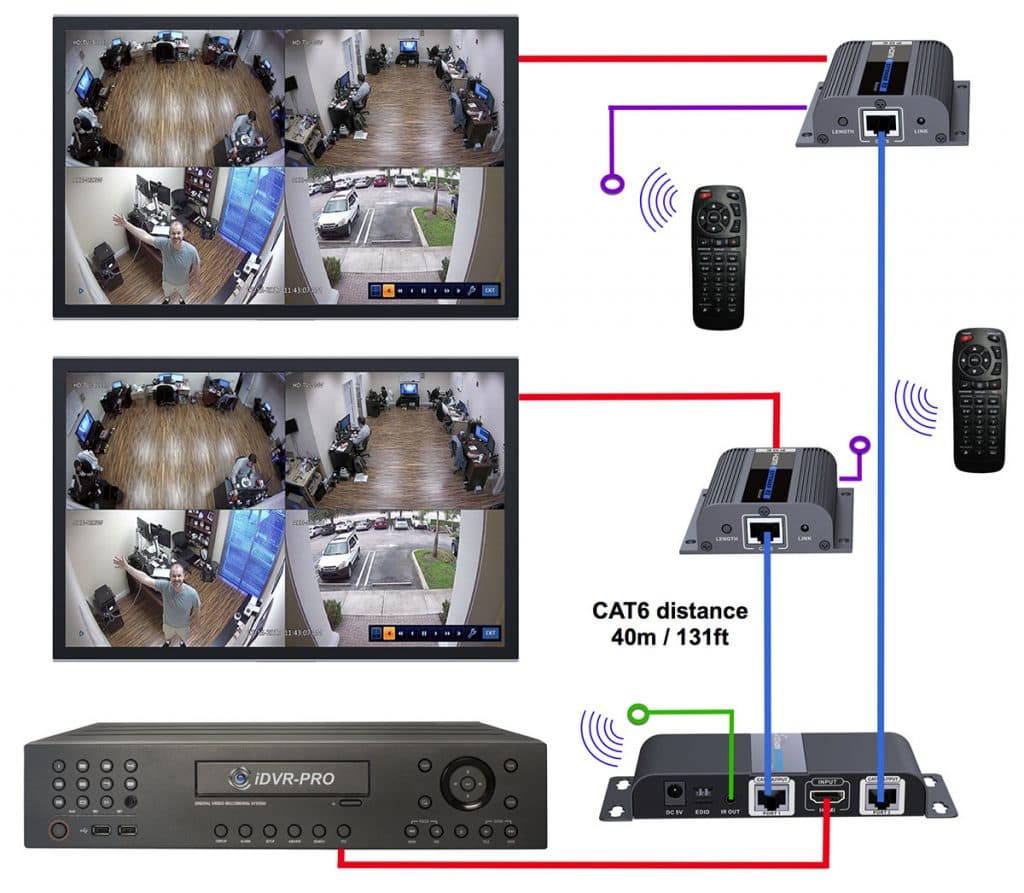 HDMI Over CAT6 Setup
The red lines are standard HDMI cables. The one on the bottom of the diagram connects the video output of our iDVR-PRO surveillance DVR to a 1×2 HDMI to Cat6 splitter. The other 2 HDMI cables connect each receiver unit of the HDMI over Cat6 system to the HDMI input of a TV.
The blue lines represent a 100 foot Cat6 cable (up to 131 feet is supported). The Cat6 input and output on these transmitter / receiver unit is standard RJ-45 Ethernet. Please note that this system does not use an IP network. It is just using Cat6 cable to transmit the HDMI signal directly. The Cat6 cable transmits the HDMI and IR remote control signals. The Cat-6 also supplies power to the receiver units from the transmitter (similar to power over Ethernet).
The purple lines with the circles on the ends represent the infrared receivers that are used to capture signals from wireless remote controls. These are included but optional to use. They allows users to control their DVR from the monitor locations using the standard IR remote included with the DVR.
The green line with the circle represents the IR transmitter. It sends the remote control signal to the IR input of the DVR (wirelessly). Please note that the IR transmitter must have a direct line of sight to the IR input sensor of the DVR.
The result is that users can now display their security cameras on multiple TVs without running cumbersome HDMI cable.
Learn About Products
You can learn more about the products used in the above diagram on these web pages.
Questions?
If you have any questions about this article or anything else related to video surveillance, please email info@cctvcamerapros.net.