How-to Connect a Security Camera DVR to a Wireless Router
I recommend wireless security camera systems ONLY as a last resort. The solution that I explain in this article and video is no different. If you can, you are always better off running network cable for a hard wired connection over using wireless.
The Problem
Sometimes customers install security camera DVRs in locations that do not have a hard wired Network connection. For example, maybe you ran all of your RG59 or CAT5 cable for your security cameras back to a closet where your DVR will be located, but you had no way to run a network cable from your wireless router to that location. Most CCTV DVRs and network recorders for IP cameras only have a wired Ethernet port (no built-in WIFI).
Now, you want to view your security cameras remotely over the Internet and in order to do this, you need to connect your DVR to your router.
What can you do?
The Solution
Watch the above video and refer to the below diagram to see how you can use a wireless bridge to connect your surveillance DVR to a wireless router or access point.
---
Wireless Network Diagram to Connect DVR to WIFI Router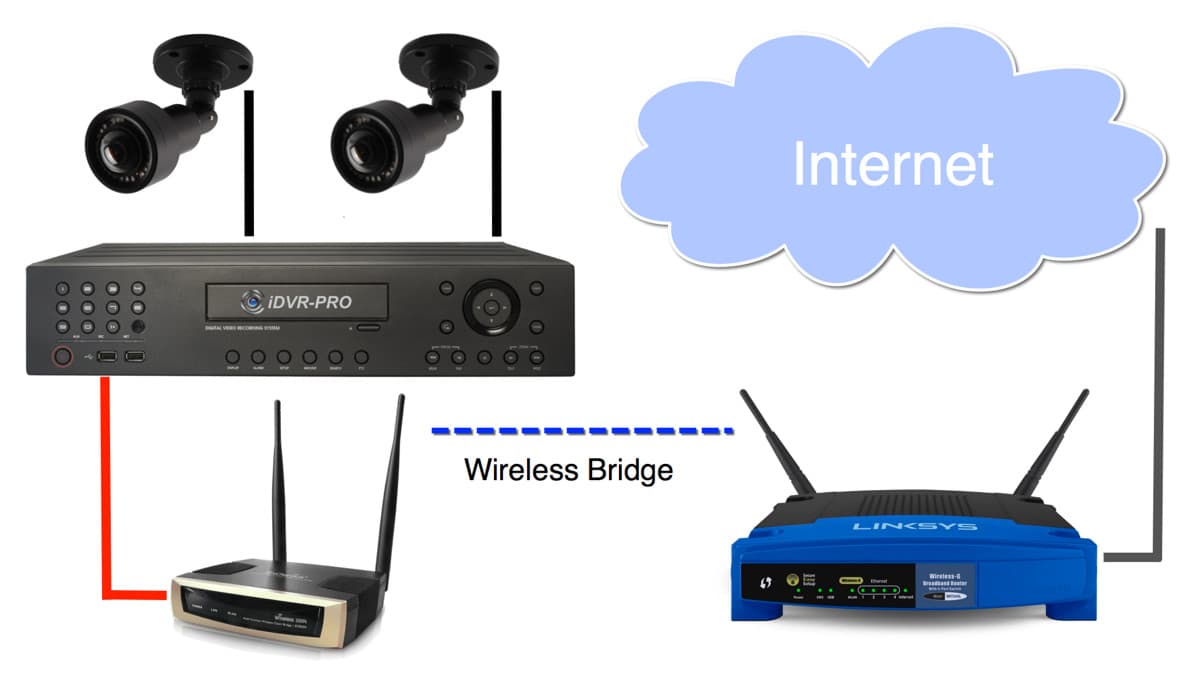 This is how it works using the above example installation.
There are two HD-TVI-BL180 security cameras hard wired to an iDVR-PRO surveillance DVR. using RG59 coax cable. However, this solution works the same if you are using IP cameras with a network video recorder.
The iDVR-PRO only has Ethernet port for network connectivity (no built-in WIFI).
The Ethernet port of the iDVR-PRO is hard wired to the wireless bridge using CAT-5e cable. I am using a WIFI-AP3500 for the wireless bridge. The WIFI-AP3500 is actually a multi-purpose wireless device. It can be configured as a router, access point, or bridge. This one is configured in bridge mode which enables it to connect to our router.
The WIFI-AP3500 is configured to connect to the Linksys / Cisco wireless router using the WIFI.
The Linksys router is connected to the Internet. This can be using a DSL, cable, dedicated fiber, or any other type of modem / Internet connection.
---
Now, as long as we configure port forwarding on our DVR, we can view our security cameras from remotely over the Internet.
This the remote camera view on iPhone using the iDVR-PRO viewer app. Users can also access using Android, Windows and Mac computers.