4K Outdoor Bullet IP Camera [Video Demo]
This demo video surveillance footage was recorded with this bullet-style 4K outdoor IP camera that is installed on the front of CCTV Camera Pros office building. I believe that most customers will be very surprised when they see the ultra high definition of this camera, high-end commercial grade construction, and $170 retail price.
Indoor Outdoor Housing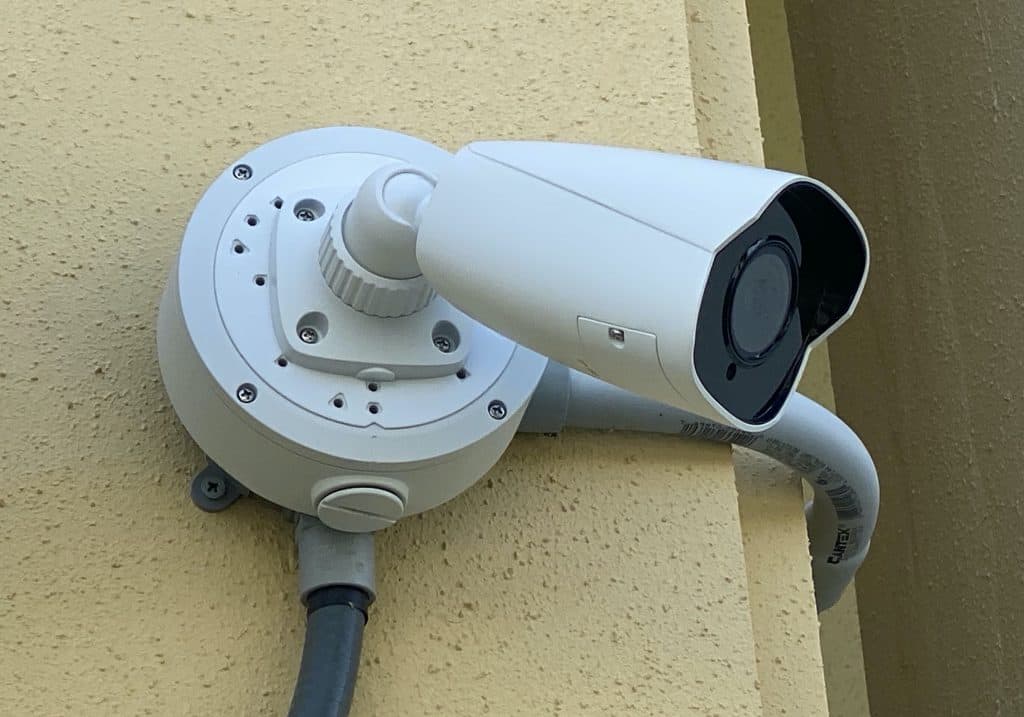 The Viewtron IP-B8 bullet camera is enclosed in an IP67 rated weatherproof housing which holds up great in wet / damp climates like we have in South Florida. We used the optional round junction box mount which made it easy to install on the concrete wall of our building. The pre-threaded mount holes made the installation very neat.
Wide Angle of View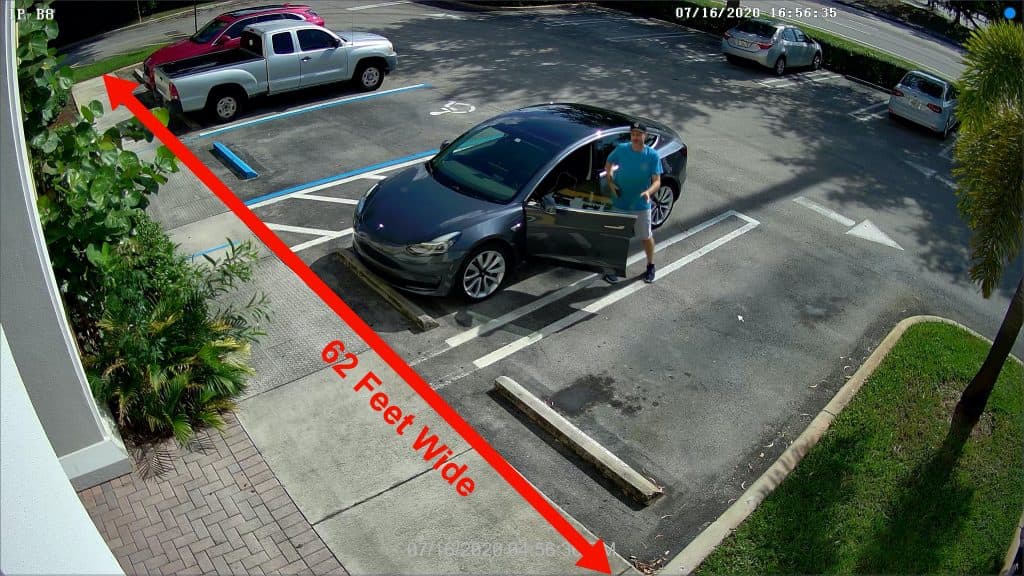 The 3.6mm lens of the IP-B8 provides a nice wide angle of view (about 90 degrees). It is perfect to monitor the 6 parking spaces right in front of our office. The 8 megapixel lens is fixed and pre-focused – no adjustments required. We also have this varifocal-lens outdoor IP camera available for customers that need a wider or tighter angle of view.
IP Camera NVR


To record the video footage, the IP-B8 was connected to a Viewtron IP camera NVR. These network video recorders are perfect for PoE IP cameras, like the IP-B8, because they have built-in Power over Ethernet ports. This makes the installation a simple plug and play type of setup. Cat-5e or Cat-6 network cable is used to hard wire the camera to one of the PoE ports on the back of the recorder. The recorder provides power to the camera and assigns it an IP address.
For customers that have existing security camera systems with BNC / coax cable type cameras, we also have these hybrid CCTV / IP camera DVRs, that are excellent for replacement DVRs. These allow customers to use older analog CCTV cameras (CVBS), HD BNC security cameras (up to 4K resolution), network IP cameras (up to 4K resolution) on the same DVR. However, they do not have the built-in PoE ports, like the pure IP camera NVRs do.
The IP-B8, and all Viewtron IP cameras, are ONVIF compliant. This allows customers to use them with any ONVIF compliant DVR / NVR or with PC based NVR software.
Remote IP Camera View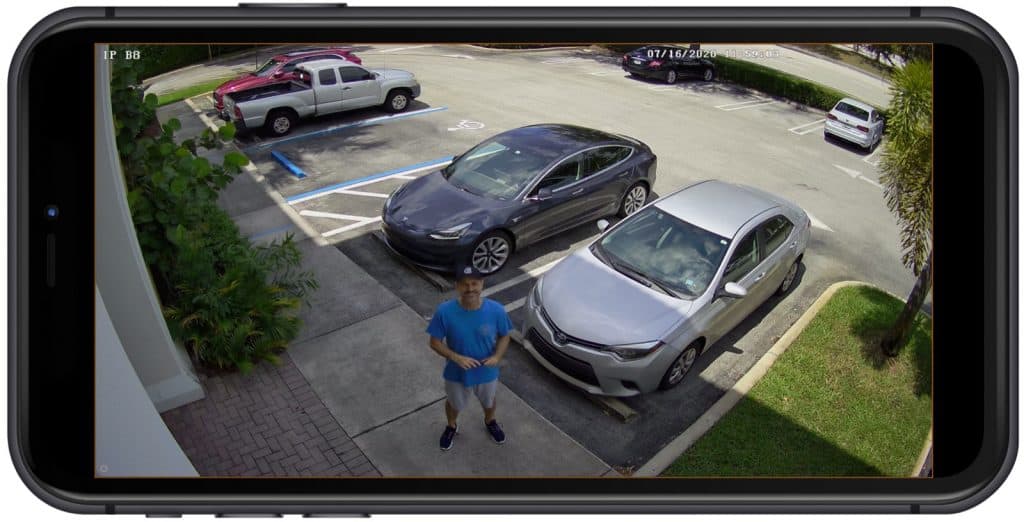 Here is a mobile screenshot that I captured while testing the IP-B8. This is the remote IP-B8 camera view from the iPhone app that is included. The app supports the ability to connect directly to the camera or connecting the NVR / DVR (if you are using one). The mobile app for Android is also included, as well as desktop software for Mac and Windows PCs. All of the apps and software support live remote camera viewing as well as recorded video search and playback.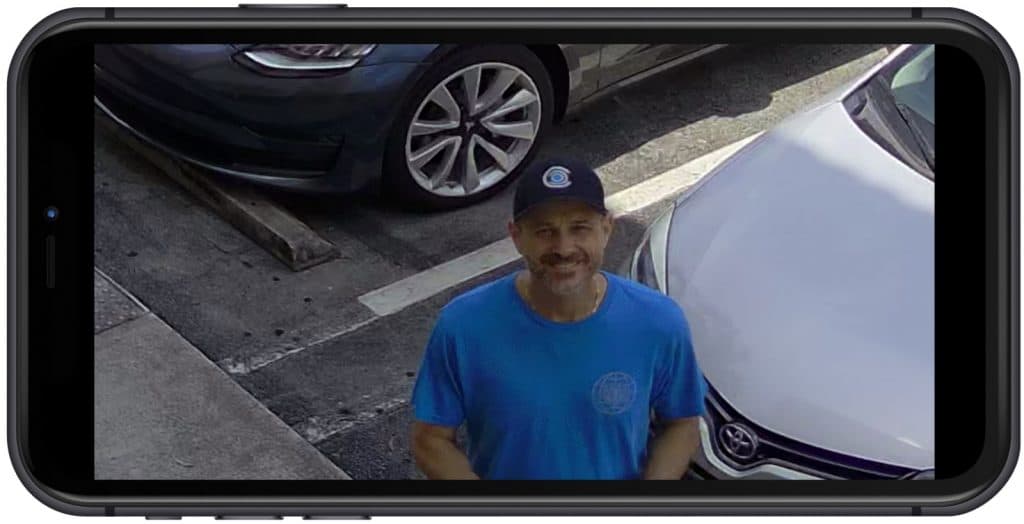 Here is another screenshot from the app. This time, I used the digital zoom function to zoom in closer on my face. This level of clarity is possible via digital zoom because of the 4K UHD resolution of the camera. Please note that the digital zoom is even better when you do it directly from the DVR because the video resolution is scaled down for remote mobile access.
Have Questions / Need Help?
Do you have any questions about IP cameras, questions about DVR compatibility, or need help designing a new surveillance system? Myself or someone on the CCTV Camera Pros team can help you. We have been doing this every day for the past 14 years.
You can request a free consultation here. You can also me at mike@cctvcamerapros.net if you prefer. Thank you for checking out my article!