What is an active deterrent security camera?
Watch this video to learn about what an active deterrent security camera is and how they can be used in residential and commercial video surveillance applications. Our new Viewtron alarm security cameras have so many features, I wanted to make this video to talk through them.
Here is a diagram of our new IP-AX4D dome alarm camera.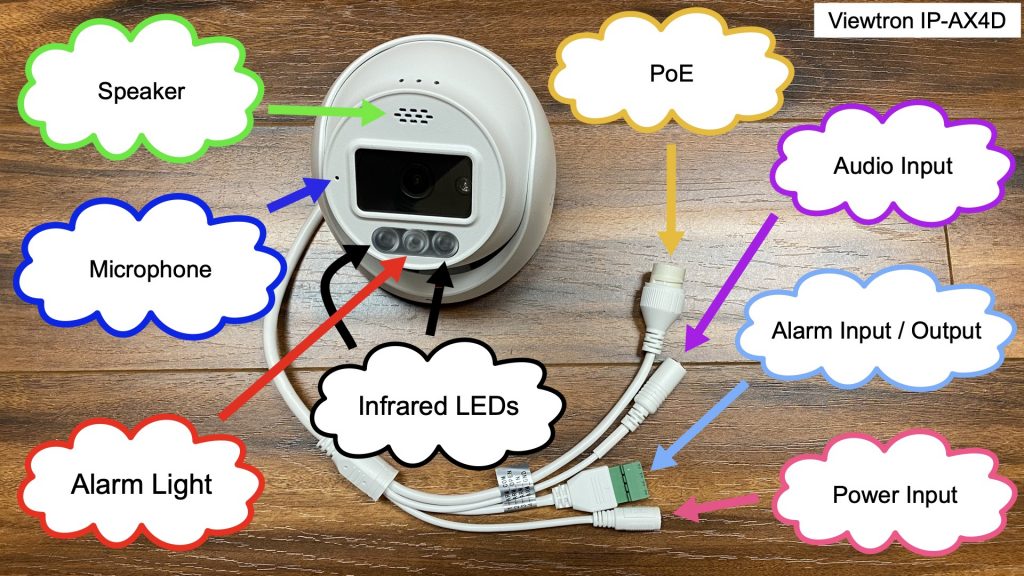 Here are the main features.
The audio speaker is used for voice audio warnings, audio sirens, and 2-way audio communication.
The microphone is used for audio surveillance and 2-way audio communication.
Red and Blue LED alarm lights can be configured to turn on based on an alarm such as human detection or vehicle detection. The can be set to low, medium, and high illumination.
Infrared LEDs provide IR night vision up to 150 feet.
PoE (Power over Ethernet) supplies connectivity and power to the camera over a single CAT5E or CAT6 network cable. Can be connected directly to a PoE port on a Viewtron IP camera NVR.
1 channel audio input for external surveillance microphone support.
1 port alarm input can be connected to an external switch or sensor, such as a magnetic door sensor or PIR motion detector.
1 port alarm output can be used to trigger an external alarm device such as a strobe light or audio siren. 30VDC 1 Amp max load.
12V DC Power Input can be used for non-PoE installations
---
Bullet Alarm Camera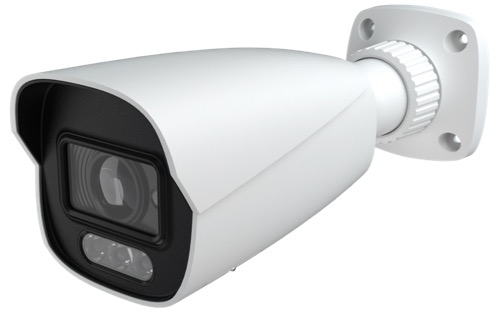 In addition to the dome, CCTV Camera Pros also has this bullet-style alarm security camera available. It has all os the same features as the dome, except that it does not have a built-in microphone for 2-way audio.
---
Active Alarm Camera Demo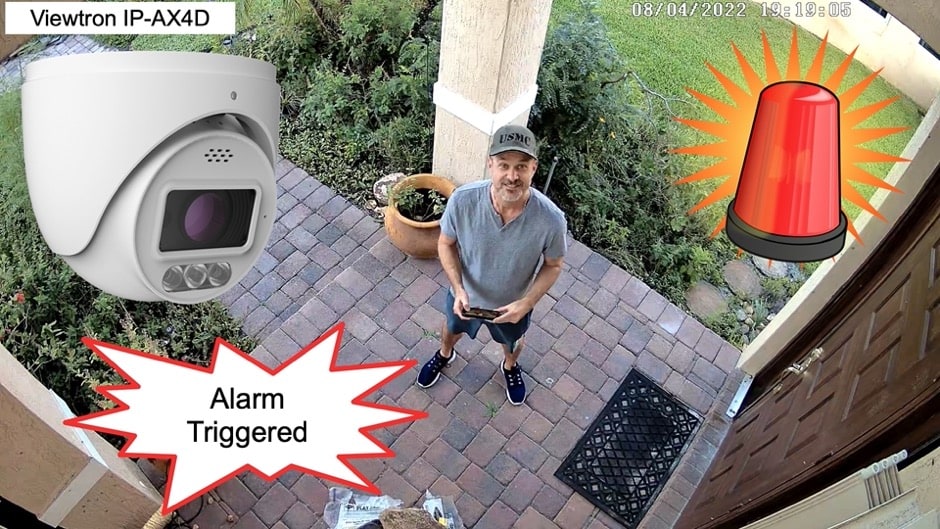 In case you missed my previous post, I recently published this video demo using the IP-AX4D that I installed at my home to monitor my front door. I setup an intrusion zone so that when a human enters the zone between 11pm and 5am, the alarm light and audio warning that video surveillance is being recorded is triggered.
---
IP Camera NVR


The above video was made with the IP-AX4D connected to a Viewtron IP camera NVR. Our Viewtron NVRs are integrated with all of the AI software and alarm functions of these alarm cameras. Although the IP-AX4D has a built-in micro SD card and can be used stand-alone, we highly recommend pairing them with our Viewtron NVRs for the very best experience.
---
Additional AI Camera Demos

In addition to these alarm cameras, we also have AI security cameras without active alarm functions and specialized license plate capture cameras available. You can watch all of our Viewtron AI camera videos here.
---
Video Transcript
What is an active deterrent security camera? Hi everyone, Mike from CCTV Camera Pros here. In this video, I'm going to go over of what an alarm security camera is and how it can be used in a video surveillance application.
So, basically an alarm security camera is a specialized IP camera that has built-in audio and visual alarms that can be triggered automatically when a human or vehicle is detected. And these alarm cameras are also known as active deterrent cameras and active alarm cameras. Let's take a look at this diagram of our new Viewtron Dome Alarm Camera, and I'll go over some of the features that it has and how they can be used.
So you'll notice at the top, it has a speaker. That speaker enables a audio alarm to be triggered when a human or a vehicle is intruding in a certain area. It's also used in conjunction with the microphone for two-way audio. Our Dome model supports two-way audio. So for example, if you want to get a push notification to the mobile app so you can log in and see why the alarm was triggered and then interact with the person that's there via two-way audio communication you can do that. You could see that there's an alarm light in the middle, and that alarm light has three settings, low, medium, and high. It's actually a very bright LED and it rotates between blue and red lights when it's triggered.
Again, the alarm light can be triggered automatically based on an alarm event like human detection or car detection, or it could be triggered manually in the app, you could turn the alarm light on or off. And that's the same thing for the speaker. The speaker can trigger a siren, or it could be a prerecorded voice message like this is private property, no trespassing. You can actually upload custom recordings to the system.
This camera has built-in IR LEDs, so it can see in zero light with its IR night vision. It's Power over Ethernet, so this connects directly to our Viewtron NVRs. Our Viewtron IP camera NVRs have PoE ports on the back, so you simply run a CAT5e or CAT6 network cable from your recorder to this camera and it provides the connectivity for the video and the power. There's also an external audio input, so if you want to use an external microphone with this camera you can. There's also alarm inputs and outputs, so you can use the alarm input, for example, to connect a magnetic door sensor or an external passive infrared motion detector as an input that can also trigger the alarms on this camera.
The alarm output can trigger external devices, such as an external siren or an external light. And last, there's a power input which is rarely used because again this is PoE, but there are some cases where you need to power this camera via 12 volt DC if you can't use PoE for some reason. As I mentioned, the alarms can be triggered manually or from the remote apps and Viewtron includes remote apps, mobile apps for iPhone and Android as well as desktop monitoring software for Mac and Windows. As I mentioned, the Dome model has a built-in microphone that could be used for audio surveillance recording and two-way audio.
The Bullet model does not have a built-in mic, so you have to add an external microphone if you want to use two-way audio or audio surveillance on the Bullet model. I recommend if you want two-way audio and audio surveillance, get the Dome with the built-in mic. Another thing I want to mention about our Viewtron alarm security cameras, they have built-in AI software. So this is not simply doing video motion detection like traditional cameras do. This is true object detection and with 99.9% accuracy, it knows when a human is detected, or a motor vehicle is detected, or a non-motor vehicle like a bicycle, for example. T
he AI software is a game changer. If you've done video motion detection in an outdoor environment, you know it's extremely unreliable because the software doesn't know the difference between a person moving and trees blowing in the wind and it leads to a bunch of false positives and a lot of frustration. These cameras are IP66 weatherproof rated, so you could use them for indoor or outdoor installation. And we highly recommend using this with our Viewtron IP camera NVRs. We have 8, 16, and 32 channel NVRs and it gets plug-and-play.
The network cable runs from the camera straight to the back of the NVR and that provides Power over Ethernet. CCTV Camera Pros designs custom systems for customers. So we could put together a custom package for you that consists of one or more of our active alarm cameras. You could use some of our AI cameras that are not active alarm cameras.
You could use non-AI cameras, and we also have license plate recognition cameras. We can mix and match any of our Viewtron IP cameras and create a custom system for you based on your needs.
If you have any questions about any of this, feel free to reach out to me anytime. I could be reached directly at mike@cctvcamerapros.net. If you want to learn more about our Viewtron alarm security cameras, please visit www.cctvcamerapros.com/alarm.
Thank you for watching.