4K Security Camera AI Person Detection [Video Demo]
Watch this video to see the AI person detection capability of our new Viewtron bullet AI security camera. This is one of our new 4K resolution AI cameras and the video surveillance footage was recorded in 4K.  If possible, I recommend watching the video demo on a 4K TV or monitor if one is available and making sure that the YouTube video player is set to 4K resolution by clicking on the gear icon in the lower right.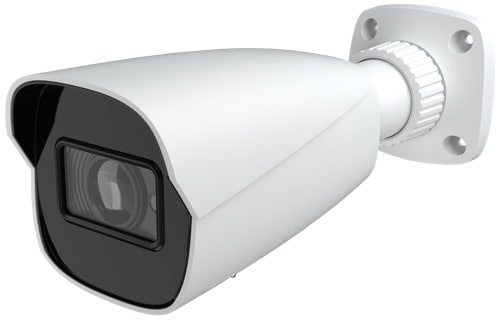 You can find this and all of our Viewtron AI security cameras here. We also have a dome-style 4K / 8mp model, as well as bullet and dome 4mp resolution models. In addition to the human detection capability, the AI software can also detect vehicles.
We also have a special license plate capture camera available here.
---
NVR with AI Software

The camera is connected to one of our Viewtron IP camera NVRs. All of the controls and video playback that you see in the video demo are being done on the NVR.
---
Additional AI Camera Demos

You can watch all of our AI security camera video demos here.
---
Video Transcript
Good morning, everyone. Mike, from CCTV Camera Pros here. In this video, I'm going to demonstrate one of our new 4K resolution, AI security cameras. I just installed it at my house. You could see it there behind me. It's that bullet camera that monitors my driveway. What I'm going to do first is show you the 4K resolution that this camera is capable and show you the nice wide angle of view that it covers my entire three car garage driveway here. And then after, I'm going to set up an intrusion zone around my car out front, that will detect when a human enters that zone and that will trigger an alarm and recording on the NVR.
Here's the live security camera view on the Viewtron NVR that this IP camera is connected to. And you're going to see me approach here from the right and just note what a nice wide angle this 2.8 millimeter lens gives you. My lot is about 70 feet wide and you could see it covers my entire front yard. I'm just going to get a little closer up here so you could see the resolution of a closeup. And then some people are going to walk by on the street here on the left, and you could see it's a nice, clear view of them too. And they're pretty far in the distance. This 4K camera makes a big difference compared to the four megapixel version that I had up before.
Next, I'm going to enable the realtime event display on the right, and you could see there's a white box around my car. That's the intrusion zone. And you could see the software's detecting me as a human object. When I penetrate that intrusion zone, an alarm is triggered and you can see the thumbnail images that bookmark those events on the right in the realtime display. I'm just walking around the vehicle, pretending like I'm a thief trying to see if any of the doors are open. You could see each time I was penetrating that intrusion zone, a thumbnail image was created, which bookmarks that event.
Last, I want to show you how easy it is to play back one of these events from the realtime display over here. You could just hover the mouse over one of the thumbnails and click on that play button and then click, playback. That will start playing back the recorded video surveillance footage from the NVR's hard drive. I'm going to put it into a full screen mode here, and you can see the recorded 4K video surveillance footage is just as clear as the live display.
I hope this video has been helpful, guys. I love the way this new 4K resolution camera covers my entire front yard pretty much. And the AI object detection is really a game changer of over the standard video motion detection that was used before. In addition to being able to detect human objects, the AI software that's built into this camera is also able to detect cars. It can also do object counting. Like it can count when people or cars pass a certain area. It also has facial detection and facial recognition.
If you want to learn more about this, you can email me directly. I can be reached mike@cctvcamerapros.net. You can also see all the AI security cameras that we offer as well as the Viewtron NVR that was used to record this video. To see all those products, please visit www.cctvcamerapros.com/ai.
Thank you for watching.