Best Android IP Camera App, Best Android CCTV App
Watch this video to see a demo of the best Android IP camera app and CCTV app that I have ever tested. It is also a Android CCTV app as it works with IP cameras and CCTV cameras. This is a free app for all Viewtron customers. Please note that the Viewtron iPhone app is identical in looks and functionality. Some of the below video demonstrations were made using the iPhone app.
Here are the reasons that I think it is the best Android CCTV app and IP camera app available.
QR Code Remote Access Setup or Port Port Forwarding

Setting up remote access on the Viewtron IP camera viewer app for Android is easy. You have the choice of using the QR code setup, which does not require that you setup port forwarding on your router. This is the easiest way to quickly setup remote monitoring. If you do not want to rely on our centralized server, you do have the option to manually configure port forwarding. You can find the remote access setup instructions here.
---
Easy Search & Export Video Recording Events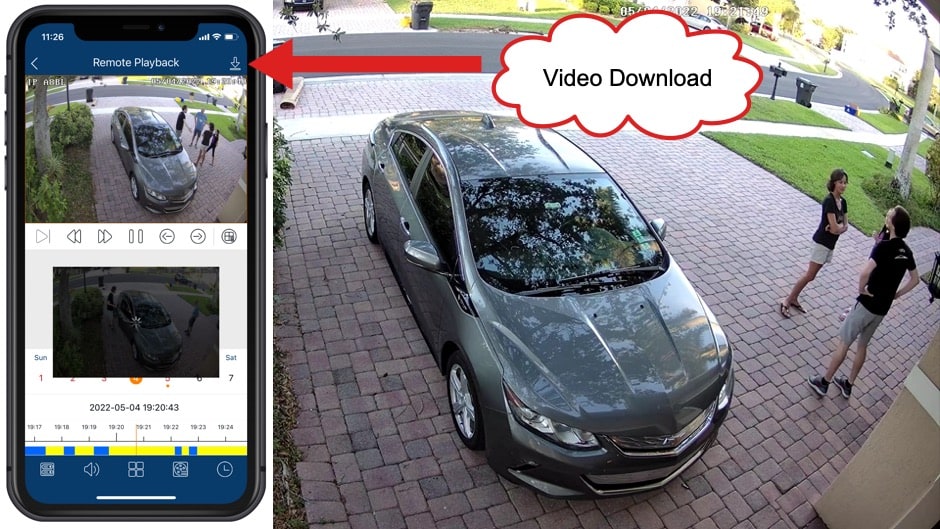 In addition to being able to view a single IP camera or multiple cameras live, most customers want to playback recorded video surveillance footage from their Android phone. Watch this video to see how easy it is to search for video recording events captured by a Viewtron AI security camera. The camera is connected to a Viewtron NVR in this case. After locating an event using the timeline in the app, I export and download the video clip, then send it to my Mac laptop.
In the video, I used the time line to locate AI human detection events. The process is the same when using traditional security cameras (without AI). For example, you can just as easily locate motion detection events on the video recording screen. Motion detection recording us supported by network cameras and CCTV cameras.
---
Real Time Monitoring Multiple Locations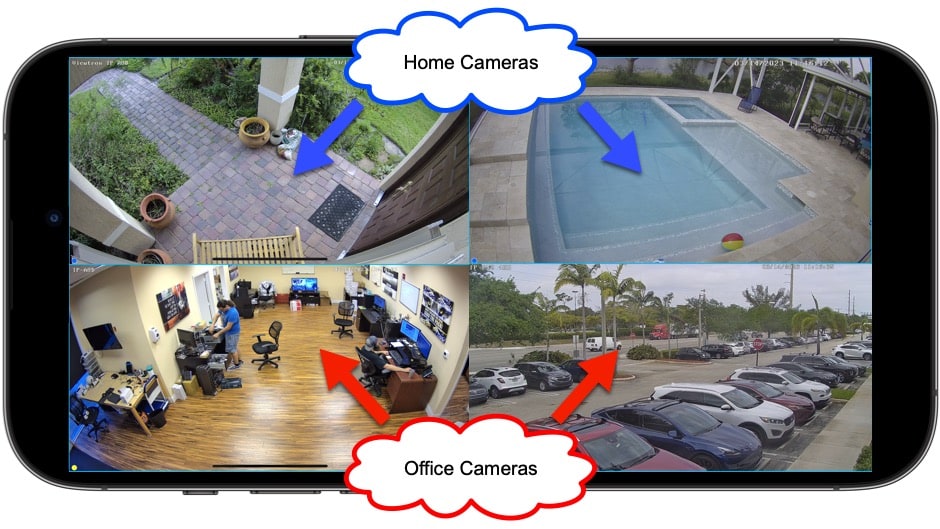 This Android app supports real time monitoring multiple security camera locations. For example, if you have a Viewtron security camera DVR installed at your business and a second one installed at your home, you can setup a custom security monitor view in the Android app consisting of cameras from both locations. Please watch the above video to see how this is done.
---
Push Notification to Android Phones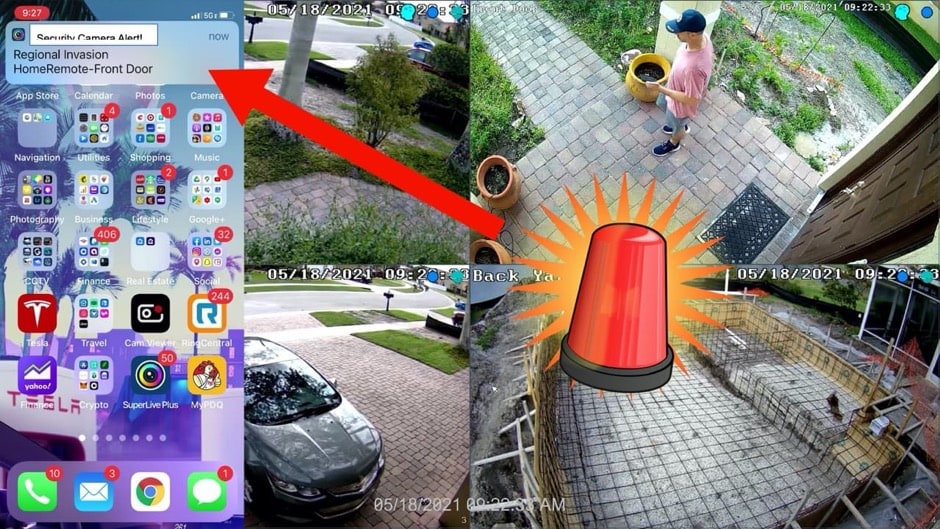 You can setup a push notifications to iPhone and Android phones. Watch this video to see how I setup push notifications to my phone whenever the security camera at my front door detects a human entering a defined intrusion zone. I have a Viewtron IP camera with AI software installed at my front door. A non-AI IP camera or CCTV camera can be used to send a push notification when non-AI based motion is detected.
---
2-Way Audio Communication / Audio Surveillance Support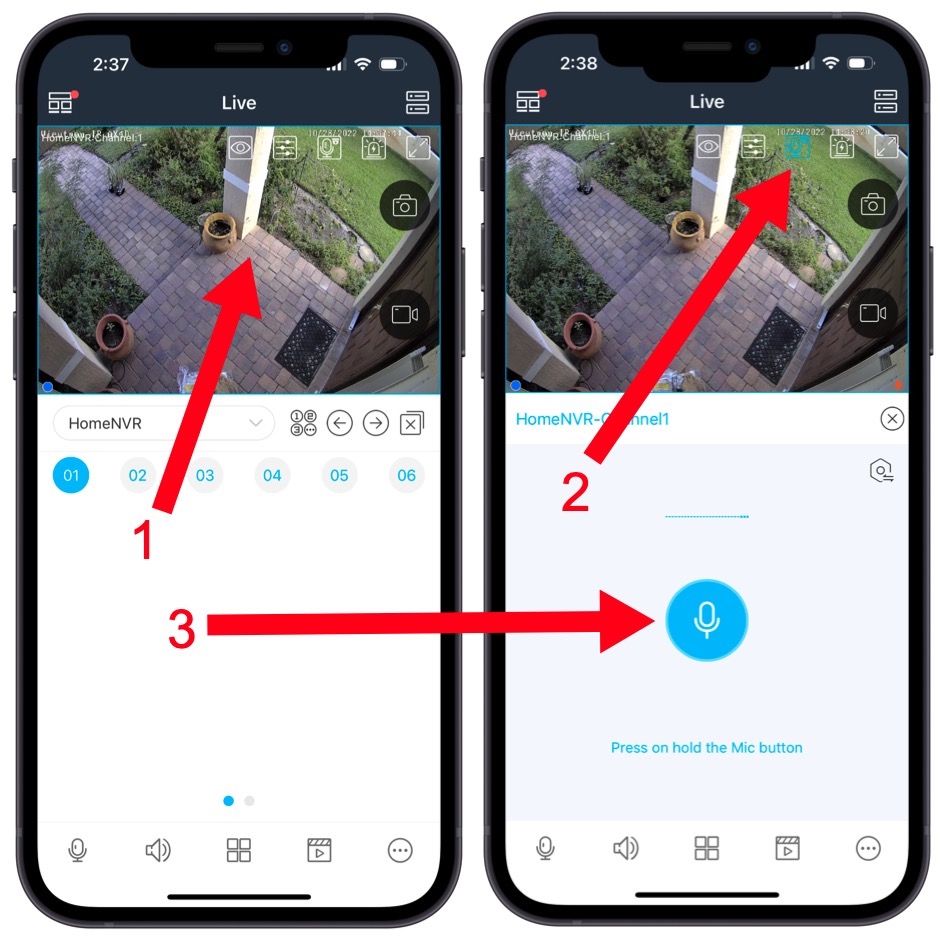 2-way audio communication from the app with this Viewtron alarm security camera is supported. The IP-AX4D has an audio surveillance microphone and a built-in speaker. To talkback through the speaker on the IP-AX4D camera, navigate to the single camera view of your IP-AX4D camera in the app. Then, 1) Tap on the screen to enable the top icon menu. 2) Tap on the microphone icon in the top navigation. 3) Press and hold the blue mic button to Talkback to your camera. You can find the full IP camera 2-way audio setup instructions here.
In addition to the 2 way audio support, the mobile app can also just listen to live audio surveillance from any network camera that has audio surveillance support. Recorded audio surveillance can be heard during recorded video playback as well.
---
PTZ Camera Controls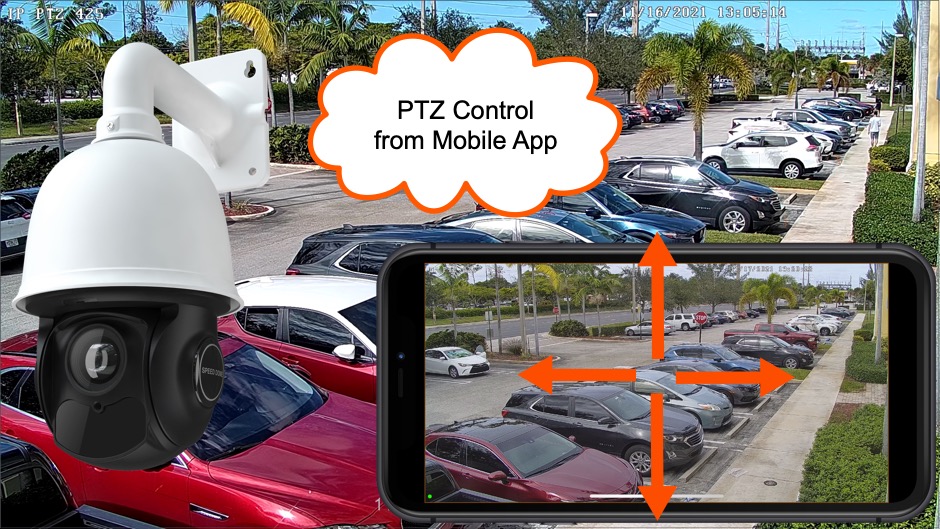 You can control the pan tilt zoom controls of PTZ cameras in the app. Please watch this video to see how easy it is. Please note that this video was made using the Viewtron iPhone app, but the PTZ camera controls are exactly the same in the Android app. You can find additional PTZ camera video demos here.
---
Trigger DVR Alarm Output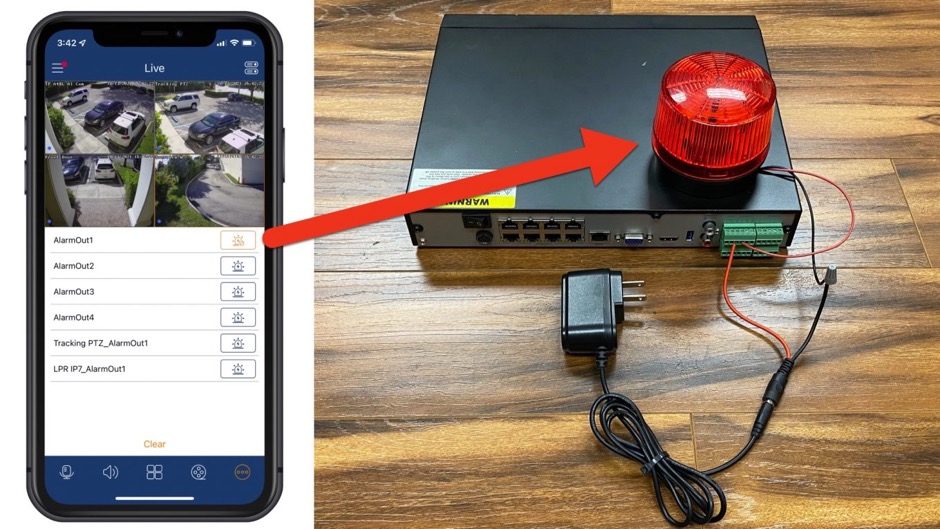 You can remotely and manually trigger the alarm output on DVRs and NVRs with the Viewtron app for Android and iPhone. Please watch the above video to see how this is done.
---
Works with Viewtron IP Cameras, DVRs, and NVRs
This mobile app works with all Viewtron IP cameras, IP camera NVRs, and hybrid CCTV DVRs.
---
More Demo Videos

You can watch addition video demos using the Viewtron mobile app for iPhone and Android here.
---
App Download
You can download the mobile app for Viewtron security camera systems using these links.
Please note that the app only works with with Viewtron IP cameras, IP camera NVRs, and hybrid CCTV DVRs.
---
Video Transcription
Here is a full text transcription of the audio from the video at the top of this page.
Hi guys, Mike from CCTV Camera Pros. Here in this video, I'm going to demonstrate the Viewtron security camera app for Android, and I'm at CCTV Camera Pros office right now, and I'm going to remotely connect to my home security camera system. My home security camera system right now consists of a Viewtron NVR, and six Viewtron IP cameras, but the Viewtron security camera app for Android. It can also connect to Viewtron BNC, DVRs, and it looks exactly the same, so it supports connecting to Viewtron NVRs, Viewtron CCTV DVRs, and it can also connect directly to Viewtron IP cameras, even if they're not connected to an NVR. Let's take a look.
Here's the live security camera view in the Viewtron Android app, and in this six-camera view, what I can do is I can drag any of the cameras over to that larger screen that I want displayed there. So I'm just going to drag a couple of them over so you can see how easy it is to manipulate this live view, and reposition the cameras.
So next, I'm going to tap on the screen, and I'm going to show you how you can change the view from that six camera view to a four camera grid view. And then, in the four camera grid view, if I double tap on any of the cameras, it'll bring up the full screen view of that camera.
And notice that when I switch to the single camera view, the video resolution goes to high depth. So when you're viewing multiple cameras, it's a lower resolution, so the app performs better, but when you go to a full screen single camera view, it shows a higher definition video stream.
So I've been swiping to the left to just switch to the different single camera views, and you can swipe left, or right to go back, and forth between those. And then, next, I'm going to tap on the screen, and click that playback button that you saw in the lower right, and that opens up the video player screen.
So now I'm querying the NVR for recorded video, and I can expand that timeline by spreading, or pinching to contract it. And then, on that timeline, you'll notice most of it is blue. That's where continuous recording is being done. And then, those yellow notches that you see on the timeline, those are actually AI detection events, so when a human was detected, and you can also have video motion detection events notated that same way. It just makes it very easy to jump to any of the events that the DVR, or NVR supports.
So this is video playback. This is streaming the recorded video from the NVR's Hard Drive remotely to the Android app that I'm accessing from the office here.
And then, in the playback screen, you could also switch camera views from the single camera view to the multi-camera view, the same way as in the live view. So I'll switch the four-camera view, and then, if I double tap on the screen on the video player, it'll switch to playing back video just for that single security camera.
And again, you can swipe from right to left to switch between cameras, and if you tap on the screen, you could bring up that timeline.
So I'll just switch to a couple of the other single-camera views, and then when I'm done, I'll switch back to the six-camera view.
Guys, I think you'll agree that the live security camera viewing from the Android app, as well as the recorded video playback works extremely well.
If you have any questions about any of this, feel free to reach out to me anytime. If you have questions, if you want to quotes, whatever you need, just email me at mike@cctvcarepros.net. If you want to see additional demo videos of this security camera app for Android, please visit www.cctvcamerapros.com/Android.
Thank you for watching.