CMS DVR Software Search, Playback & Backup AI Motion Events
The Viewtron CMS DVR software for PCs allows you to search, playback, and backup AI object detection and motion detection events over a network. CMS stands for central monitoring software. This is the Viewtron "DVR viewer software" for Mac and Windows that allows you to connect to one or more Viewtron IP camera NVRs and hybrid CCTV DVRs.  The software is called Viewtron NVMS (network video management system) or just Viewtron VMS. You can monitor your security camera system(s) from your local network or remotely over the Internet.
---
Video Search by Event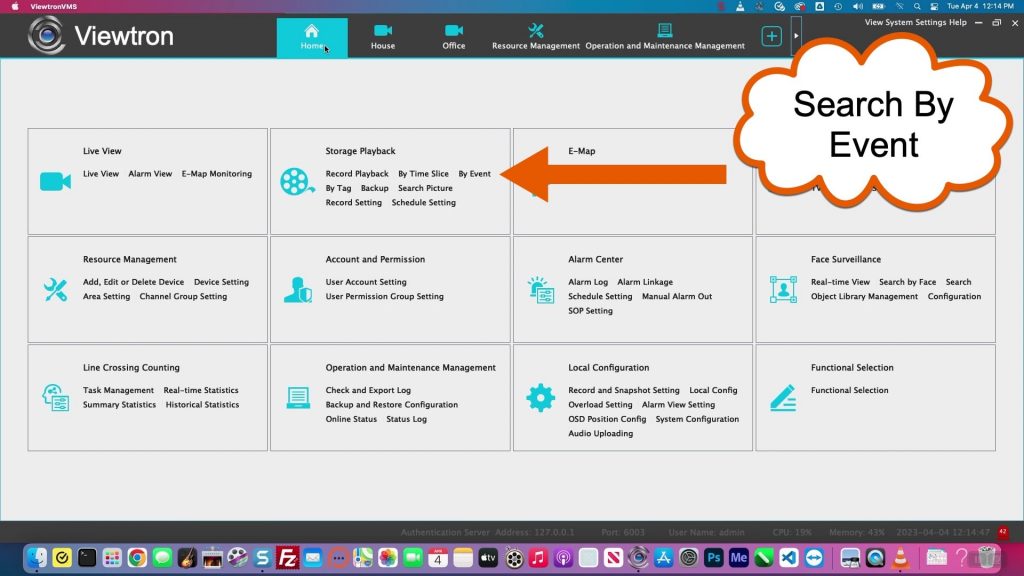 To search for recorded video events (including motion detection and AI object detection events), click on the Home icon at the top of the screen, then click "By Event" under the Storage Playback section.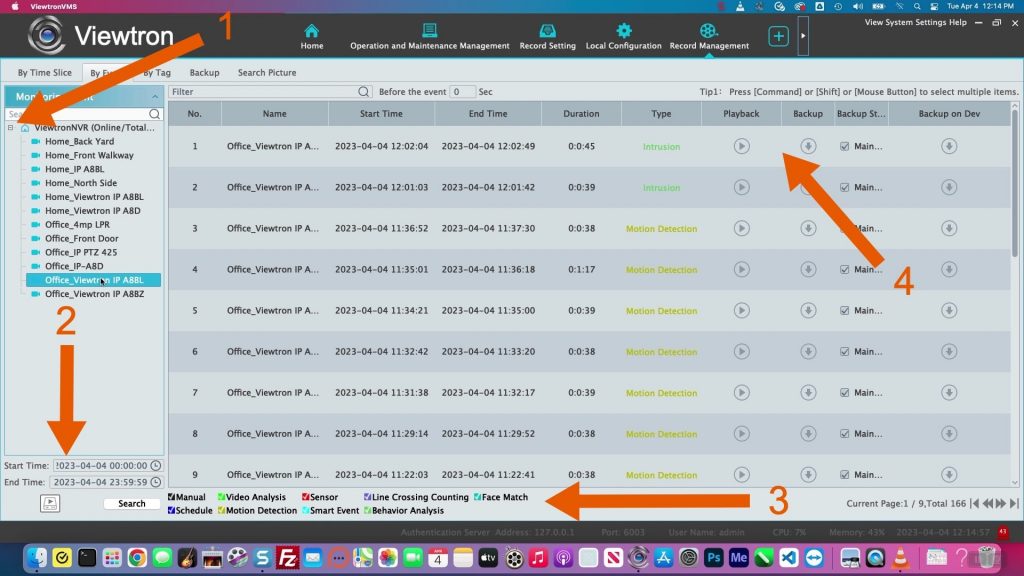 On the search by event screen follow these instructions.
Expand your camera list on the left window and double-click on the camera that you want to search.
Set the start and end times of your search. Then press the Search button.
If you want to limit the type(s) of events that are displayed in the list, you can uncheck the other event boxes on the bottom of the screen.
Use the Playback and Backup buttons to playback the recorded video and to backup the recording and download it to your PC or Mac.
Backup / Export Video File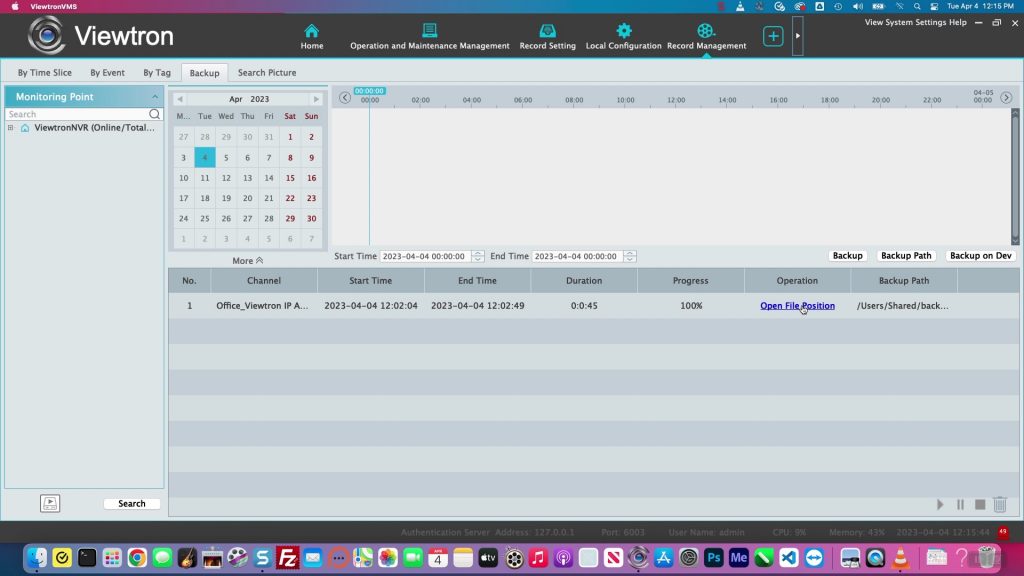 If you choose to backup / export the video file, an export progress percentage will be displayed. When the backup is complete, you can click on the Open File Location link and you will be brought to the file that was downloaded in Finder application on Mac PCs or Explorer application on Windows PCs.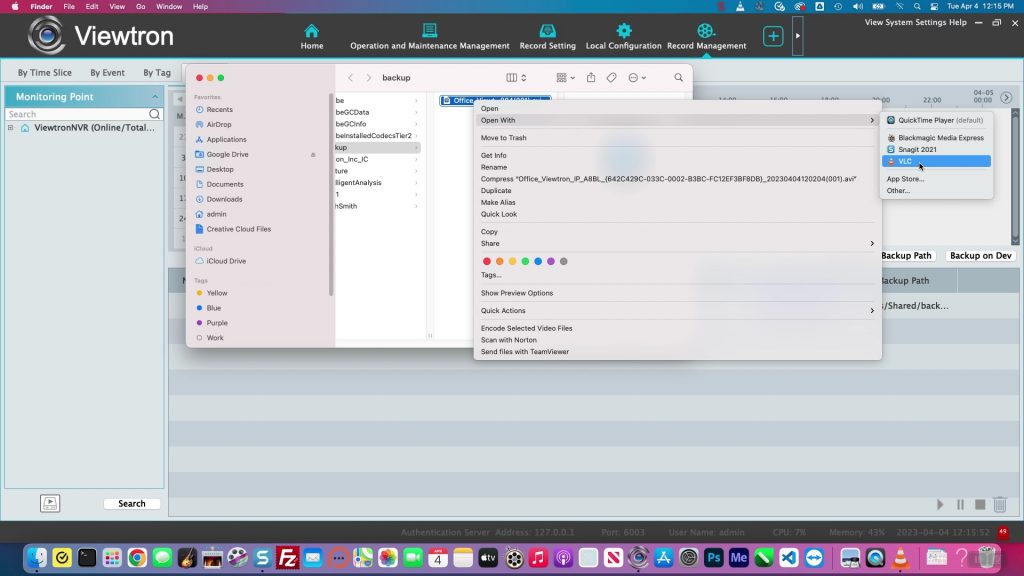 From the Finder or Explorer window, you can open the exported video file with the VLC video player. You can download the VLC player here. You can also now share the video file with anyone that needs it.
---
Live Security Camera Viewing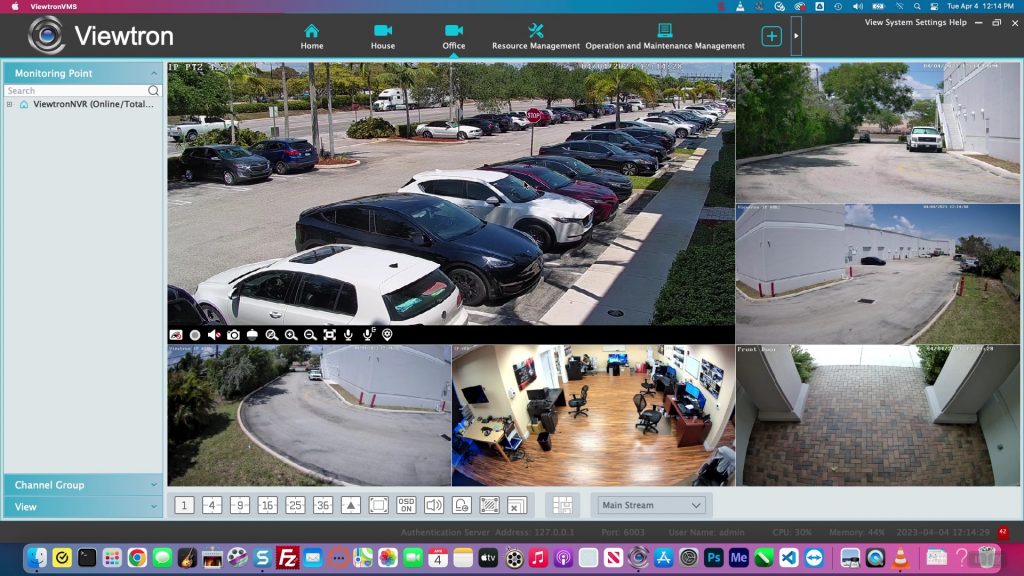 In addition to the recorded video surveillance search, playback, and export functions, the Viewtron CMS software also supports excellent live security camera viewing. This is the live view of 6 IP cameras at CCTV Camera Pros office. Notice there are live view tabs at the top of the screen labeled "Home" and "Office". That is because I have the CMS software connected to my home security camera system in addition to the office system. You can create many live camera views consisting of security cameras from one or more remote DVR / NVR systems.
---
Home Security Camera System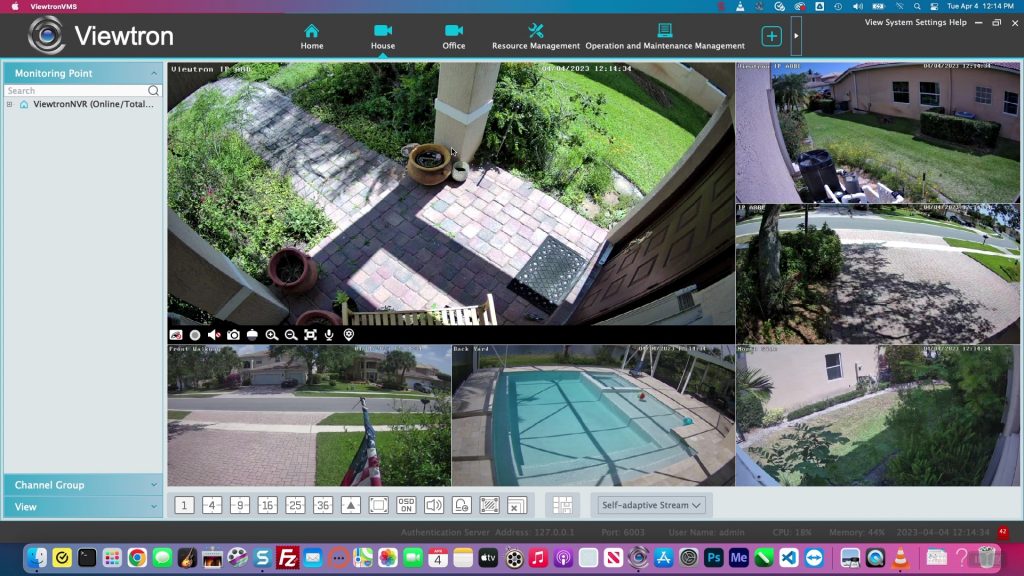 When I click on the Home tab at the top of the screen, the live view of my home security camera system is opened. Please note that the software also supports the ability to mix cameras from multiple locations in a single live view grid.
---
Viewtron DVR Viewer Software & Mobile Apps

You can learn more about Viewtron DVR viewer software and mobile apps here.
---
Video Transcript
Hey guys, Mike from CCTV Camera Pros here. Our Viewtron IP Camera NVRs and BNC Security Camera DVRs include desktop software for Mac and Windows that let you log into your recorder from remotely over the internet. And in addition to viewing your security cameras live, you can also search and play back recorded video that's on the hard drive. One of the ways to search for video is by event, so our Viewtron AI cameras can do object detection and create an event when like a human or a car intrudes in a certain area, like an intrusion zone. Our DVRs and NVRs also support standard video motion detection recording. In this video, I'm going to show you how we use that IP camera that you see behind me to track vehicles that come through behind our plaza and how easy it is using the event search feature on the software to search and play back the recorded video.
Here is the NVMS Viewtron software installed on my MacBook, and that was a view of my home security camera system. And then here's the office cameras. You notice I have two different tabs up top that I can switch between my home camera system and the office. So, what I want to do is, I want to search for the events of this camera here in the lower left. So, I'm going to click on this home button up top. And then under storage playback, I'm going to click on by event.
On the event screen, I'm going to expand this camera list over here, and you'll see it displays the six cameras at my house and the six cameras at the office. I double click on this one and I want to look for just intrusion detection events. So, I'm going to disable the motion detection down here. And now, here's a list, all the AI intrusion detection events that camera detected. And so, I went full screen on the playback here, and you can see it picked up this pickup truck going by. I'm going to pause it there and switch to another event where it captured this semi-truck coming from the other direction. And when I'm done, I can minimize that and close it out.
And let's say that I want to export that first video that we looked at. I'm going to close that screen and click this backup button. On the backup screen, you'll see the progress of the file downloading to my MacBook, and then I can click on this open file location link and it'll bring me right to the file. I'm going to open the file with the VLC player. That's an open source video player. It's available for free for Mac and Windows, and it's the one that we recommend to play back the Viewtron video files. And here is the recorded video, the exported video, playing back on the VLC player on my MacBook. And this entire process is exactly the same on the Windows software. The Windows and NVMS software for Viewtron is identical to the Mac software.
When I'm done, I can close that window out, and now I'm back at that file location, I could email this file or upload it to a Google Drive, however I need to share that. I'll minimize that screen, and then I'll go back to the live security camera view of the six IP cameras at the office again.
Guys, I hope this video has been helpful. As you could see, the interface on the Mac and Windows software that comes with our Viewtron recorders is extremely easy to use and super easy to search for AI events and motion detection events. Again, that works with both the IP camera NVRs as well as our DVRs, and you can connect to multiple locations, set up different tabs for different screens that consist of cameras from one location or views that consist of multiple locations, the software is very flexible.
If you want to learn more about all of our Viewtron products, besides the DVRs and NVRs, we have a whole bunch of IP cameras, AI cameras, license plate recognition. We have BNC security cameras. We could put together custom system quotes for you. We cater to homeowners, small business, medium-sized business, large businesses, and we have a whole bunch of government contracts. This equipment is really great for everyone and it's very affordable. If you have any questions about any of it, please feel free to reach out to me anytime. I can be reached directly at mike@cctvcamerapros.net. If you want to see some additional demo video videos on our Viewtron products and learn more, please visit www.cctvcamerapros.com/Viewtron. Thank you for watching.
---
Have Questions / Need Help?
If you have any questions, you can email me at mike@cctvcamerapros.net.