View Security Cameras at Multiple Locations in Mobile App
Watch this video to learn how-to setup a custom live view in the Viewtron mobile app that consists of security cameras installed at multiple locations. This works the same for the iPhone app and Android app. The Viewtron mobile app can connect to Viewtron IP camera NVRs, BNC camera DVRs (CCTV / Coax Cable), and directly to Viewtron IP cameras.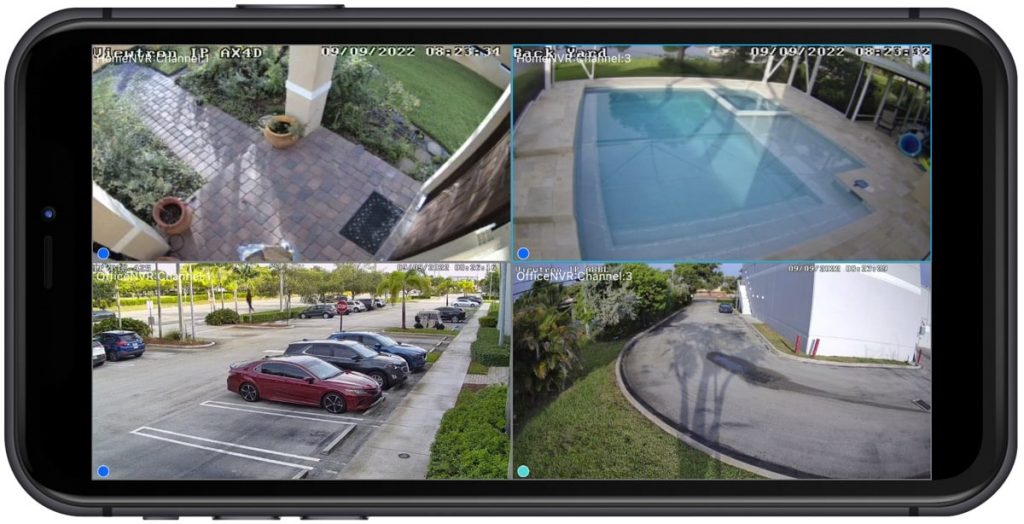 For my custom view setup, I used two cameras from my home system and two from the office system at CCTV Camera Pros. I only demonstrate the portrait view in the app, but as you can see in the above video, you can view your security cameras in landscape view as well. Please note that in order to save the custom view as a favorite, you must be in portrait mode.
---
More Mobile App Video Demos

You can watch additional video demos using the Viewtron mobile app here.
---
AI Security Camera Demos

You may also be interested in these AI security camera video demos. Our Viewtron AI cameras have become some of our best sellers.
---
Need Help? / Have Questions?
If you have any questions, please email me at mike@cctvcamerapros.net.
---
Video Transcript
Hey guys, Mike from CCTV Camera Pros here. In this video, I'm going to show you how you can remotely view security cameras that are at different locations in the Viewtron mobile app for iPhone and Android. And what I mean by that is I'm going to create a custom view in the app that consists of two security cameras at my home system and two security cameras that we have here set up at the office. I'm going to be using the iPhone app, but the setup and the experience is exactly the same on the Android app. Let's take a look. Here's the live camera view in the iPhone app, and I'm connected to my home system initially. If I tap on this dropdown, and then tap on the Office NVR play button, it'll connect to the Office NVR as you see here.
And I'm just deciding which two cameras I want to use in this custom view I'm going to set up. I think I'm going to use cameras one and three. So I'm going to go back to the Home NVR, and then select the four camera grid view. I want to use my front door camera and the pool camera. So I'm going to drag the pool up here to the upper right. And then I'm going to tap the camera three now, the lower left, and then hit the dropdown box and select Office NVR, then camera one. That will now assign camera one from the Office NVR to that camera three slot. And I'm going to assign the camera three from the Office NVR to this camera four slot. When I'm done, I tap the icon in the lower right with the three dots, and then tap Add Favorite, and then click on the plus next to Group One.
That just created a custom group view basically that I can select at any time. So I'm going to go back to the Office NVR. Or sorry, I'm going to go back to the Home NVR here. And then if I want to see my custom view of the home and office, I'll tap that icon in the lower right, and then hit the play button for Group One, and that'll open up my custom view of my home system and the office system. I'll just show you. If you double tap on any of the cameras, it'll go to the full screen view of that camera. And if you double tap again, it'll return to the four camera grid view. Guys, I want to mention a couple things before we wrap up. So I have IP cameras and a Viewtron NVR at my house. And we have Viewtron IP cameras and NVR here at the office.
But I wanted to mention, this works the same with DVRs and BNC cameras. So you can have a coax system at one location, an IP camera system at another. And you can even have a single IP camera installed because the app doesn't rely on the recorders. You can connect directly to IP cameras. So you can have a single IP camera a third location and create a custom view with cameras from all three of those scenarios. If you have any questions about any of this, feel free to reach out to me anytime. I can be reached directly at mike@cctvcamerapros.net. If you want to learn more about our Viewtron security camera systems, I have a whole bunch of other video demos using our AI cameras, more mobile app demos, license plate recognition cameras, motion detection, intrusion detection. We have a ton of videos in our library. Please visit www.cctvcamerapros.com/viewtron.
Thank you for watching!