Audio and Alarm Light Security Camera with AI Software
The IP-AX4BL is an audio and alarm light security camera with built-in AI software. Watch this video to see how I setup this camera at my house to monitor my driveway. I created an intrusion zone on the NVR so that when the AI software detects a person the alarm light flashes and an audio warning plays over the speaker. In addition to the audio files that are included with the camera, users can also upload custom warning messages and alarm sounds to the camera.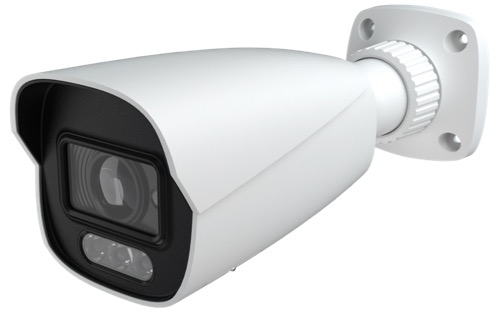 The camera at my house is hard wired to one of the PoE ports on this 16ch Viewtron NVR.

You can learn more about Viewtron IP camera NVRs here. They are available in 8ch, 16ch, and 32ch models.
---
Dome Alarm Camera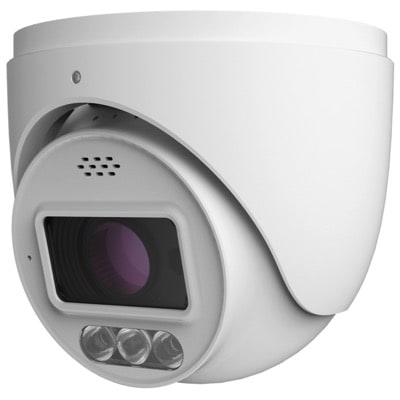 In addition to the IP-AX4BL, we also have this dome-style-alarm security camera available. The dome model has a built-in surveillance microphone that can be used for 2-way audio communication.
---
AI Camera Videos

You can watch additional video demos using Viewtron AI cameras here.
---
Have Questions? / Need Help?
If you have any questions, please email me at mike@cctvcamerapros.net.
---
Video Transcription
Hey guys, Mike from CCTV Camera Pros here. I recently did some more testing at my house using one of our Viewtron alarm security cameras. These alarm security cameras are network IP cameras with built in AI software to detect humans and vehicles, and they can trigger audio and visual alarms on the camera. The camera has built in high powered LED lights, and it also has a speaker so that when someone intrudes in a certain area, if a person or a vehicle intrudes in a certain area that you could set up, the light can come on flashing and also an audible message can play over the speaker. Watch this video to see how I set up an intrusion zone around the area in my driveway where my son parks his car to trigger the audio and visual alarms.
Here's the live view of the security cameras on my home system. And this is the alarm security camera right here that I've mounted. And to access the settings, I'm going to click on this button and then select settings. And then, I'm going to select AI/Event, and then AI Event again. Using this dropdown right here, I'm going to select the camera that I want to work with, and then the type of alarm I want to set up is Intrusion. So, I'm going to select that and then check this checkbox here. Next, I'm going to draw the intrusion zone. I'm using the USB mouse that's connected to the DVR, by the way. So, I'm just pointing and clicking on these points to make an intrusion zone in my driveway around my son's car.
And then, under the detection target area, you can configure if you want it to detect just people or if you want to also detect vehicles. I'm going to leave them all on, but it's really just to detect humans mostly. And then, what I'm going to do is I'm going to trigger a snapshot on the DVR, and it'll record video automatically. But I'm also going to enable the audio alarm and the light alarm on the camera. When I'm done, I press the apply button. Next, I'm going to go into the audio settings. And in on this audio settings screen is where you can select the camera you want to work with, and then which voice recording or which alarm that you want to sound.
There's a bunch of pre-recorded ones available on these cameras, and you can also upload custom ones. If you're not happy with the ones that are on there, it does support the ability for you to record your own message that could be uploaded and played. And you configure the number of times you want the recording to play, as well as the volume and other settings down here. When I'm done, I click apply. Next, I'm going to go into the light. The light, you could set the flashing frequency to low, medium, or high. I'm going to go ahead and set it to high, and apply those settings.
You can also set the flash timing. So when I'm done, I close that out, and I'm back at the live view of the camera. So next, I'm going to enable the AI visualization by clicking on this icon. That opens up that little side window there that will show you when an AI event occurs. So, you see me coming around the corner here, and I'm holding my camera because I'm also going to record what the camera does, which I'll show you in a minute. But you'll see when I penetrate that intrusion zone, the camera's detecting me as a human object, and then it bookmarks that event on the DVR. So next, I'm going to switch over so you can see from my point of view what the camera was doing. So, let's take a look at that now. So, here I come walking up. And in a minute, it'll detect me going through that intrusion zone. And then, you'll see the LED light come on, and you'll hear the audio.
You have entered the real time CCTV monitoring area. You have entered the real time CCTV monitoring area.
Guys, I hope this video has been useful. If you have questions about anything related to these alarm security cameras or surveillance systems in general, please feel free to reach out to me anytime. I could be reached at mike@cctvcamerapros.net. If you want to learn more about these alarm security cameras and see some additional demos, these are four megapixel resolution. We also have 4K resolution AI cameras without the alarm features. In addition, we have license plate recognition cameras, as well. Please visit www.cctvcamerapros.com/ai. Thank you for watching.