Best Outdoor Wireless Security Camera System with DVR
This article will assist in designing the best outdoor wireless security camera system with DVR. You may have come across this article when searching online for "best wireless outdoor security cameras". Or you may have contacted myself or one of the other surveillance system engineers at CCTV Camera Pros. We refer many of our customers to this article to get educated on outdoor WIFI cameras. My goal for writing this article is to explain some key concepts and real challenges when designing an outdoor wireless camera system that fits your specific needs.
I want to be upfront and mention that this will not be a short article and it will be fairly technical. If you prefer to get assistance from one of our system designers, please request a free consultation here. We can design simple systems for homeowners, as well as very large, complex wireless camera systems for commercial and government applications.

---
I will discuss the following system applications in this article.
Point-to-Multi-Point WIFI Systems – these systems consist of surveillance cameras at more than one remote building that need to communicate to a DVR located in another building.
Point-to-Point WIFI Systems – these systems typically consist of a main building where the cameras are hard wired to a DVR / NVR and there is one separate building with one or more cameras that must record to the DVR / NVR at the main building.
Non-Direct Line of Sight Wireless Systems – a direct line of sight between WIFI transmitters and receivers is always the most ideal situation, however, non-direct line of sight wireless bridges are available as a last resort option if this is not possible. These systems can transmit the video signal from a security camera through trees and sometimes through buildings.
Who should read this?
The information in this article is written for home owners, business owners, security installers, government contractors and anyone else who wants to learn how to design and/or install a video surveillance system that connects more than one building with wireless cameras. Me and the other system designers at CCTV Camera Pros have assisted DIY and professional security installers with these types of wireless IP camera / NVR systems for many years.
These systems work great for the following applications and many others.
Home camera system with cameras installed on a detected garage or barn
Farmhouse or farm business with security cameras installed on one or more barns that have power but no network connection
Storage facility / storage yard with security cameras spread out all over the property (multiple buildings)
Apartment complex with cameras on multiple buildings communicating back to a central DVR
Any type of government or commercial property where you need to connect security cameras from multiple buildings back to a central recording DVR
I want to be upfront by saying that installing a long range wireless systems that connects remote cameras to a centralized DVR in another building is much more complicated than installing a simple plug and play CCTV camera system with pre-made BNC cables. However, I will do my best to break down the information in as simple of terms as possible.
One last thing. In this article, I am referring to high quality, commercial grade equipment. These systems are designed to perform at a very high level and be extremely reliable. These systems are not cheap and can not be compared to an $600 residential system from Costco or Walmart. These are commercial grade IP cameras, custom built video recorders with professional recording and analytics software, and high end wireless networking equipment. Most important, all of the products include world class technical support from the team at CCTV Camera Pros.
IP Cameras and NVRs
The wireless camera systems discussed in this article will use network IP cameras. Why? Because the video signal from IP cameras can natively be sent over a wireless network bridge with no need to convert the video signal. It is already in an IP format.
Wireless systems are available for analog and HD CCTV cameras that use BNC connectors and coax cable. However, installers must understand that the video signal from analog CCTV cameras and HD coax security cameras (AHD, HD-TVI, HD-CVI) must be converted to an IP signal before being sent over a wireless network. This often requires two conversions: first BNC to HDMI, then HDMI to IP. Last, the IP signal must be decoded back to the original analog, AHD, HD-TVI, or HD-CVI video signal before being connected to the DVR. This adds additional hardware converters to the application and complicates the system design.
The video signal from IP cameras are already in the digital format needed to travel over an wireless IP network and IP cameras are available in all of the same styles as traditional CCTV cameras, such as dome and bullet cameras. And just like CCTV cameras, some IP cameras have built-in IR LEDs for infrared night vision.
The DVRs that are used with network IP cameras are usually referred to as an NVR (network video recorder). This is because the video is sent over an IP network instead of a closed circuit cable system. NVRs for IP cameras record and store video on a hard drive, just like a surveillance DVR records and stored video for coax security cameras.
Point to Multi-Point Outdoor Wireless Camera System
The first type of wireless camera system that I will talk about is the point to multi-point system. This type of system typically uses an omni-directional antenna to receive the video signal from multiple buildings on a property. Here is a site diagram of an actual point to multi-point system that I recently designed for a customer.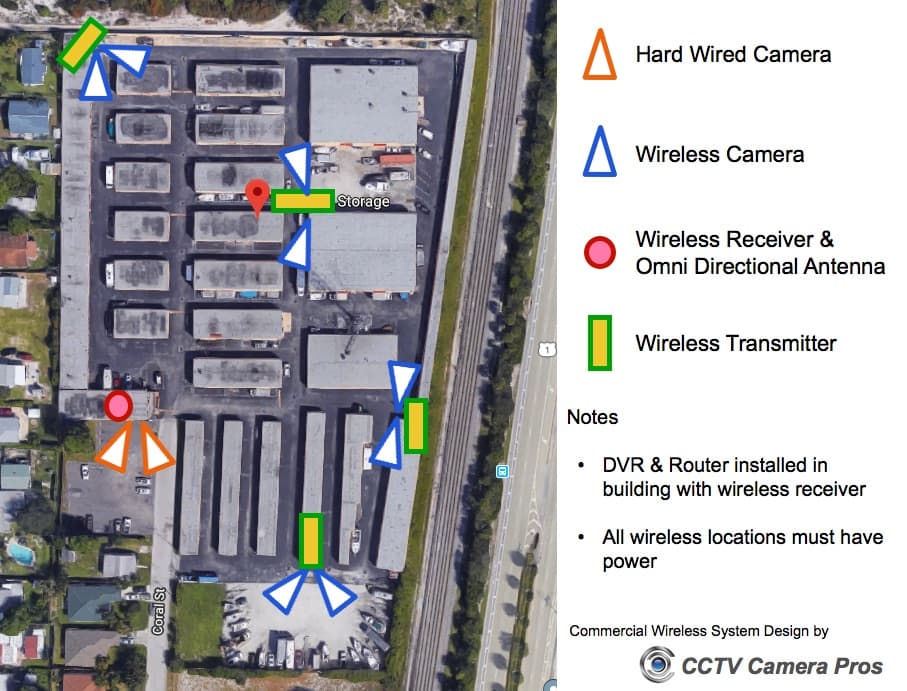 This system was designed for a storage facility that consisted of many separate storage buildings, outdoor storage yard for boats and vehicles, and a main office.  You can read more about self storage facility security camera system here. The concepts used to to design this system are applicable to any other project that consists of security cameras that need to be installed in separate buildings from where the recording DVR is stored. This is known as a point to multi-point wireless network.
Here are the details of this project.
The facility's main office where the manager works and where the DVR / NVR resides is noted by the red circle on the above site survey. The red circle also notes the location where the omni-directional antenna and wireless receiver will be mounted. The office building is two stories tall which works out great because it is the highest building in the yard. This helps to make a direct line of sight connection between the omni antenna and the four transmitting antennas.
The DVR / NVR will be located in in the office building (where the omni-directional antenna is mounted).
The orange rectangles note the installation location for two cameras that will monitor the storage yard entrance and parking lot. Being that these two cameras will be installed on the exterior of the building where the NVR will be installed, these two cameras will be hard wired to the network switch in the main office. This is the same switch that the receiving antenna and NVR will be connected to.
There are 4 locations on the property that require two surveillance cameras each. These IP cameras (noted by the blue rectangles) will be connected to a wireless transmitter antenna, which will connect to the omni-directional antenna on the office building.
Outdoor Wireless IP Cameras
This is the detailed view of each of the outdoor wireless IP camera transmitter locations documented on the site survey.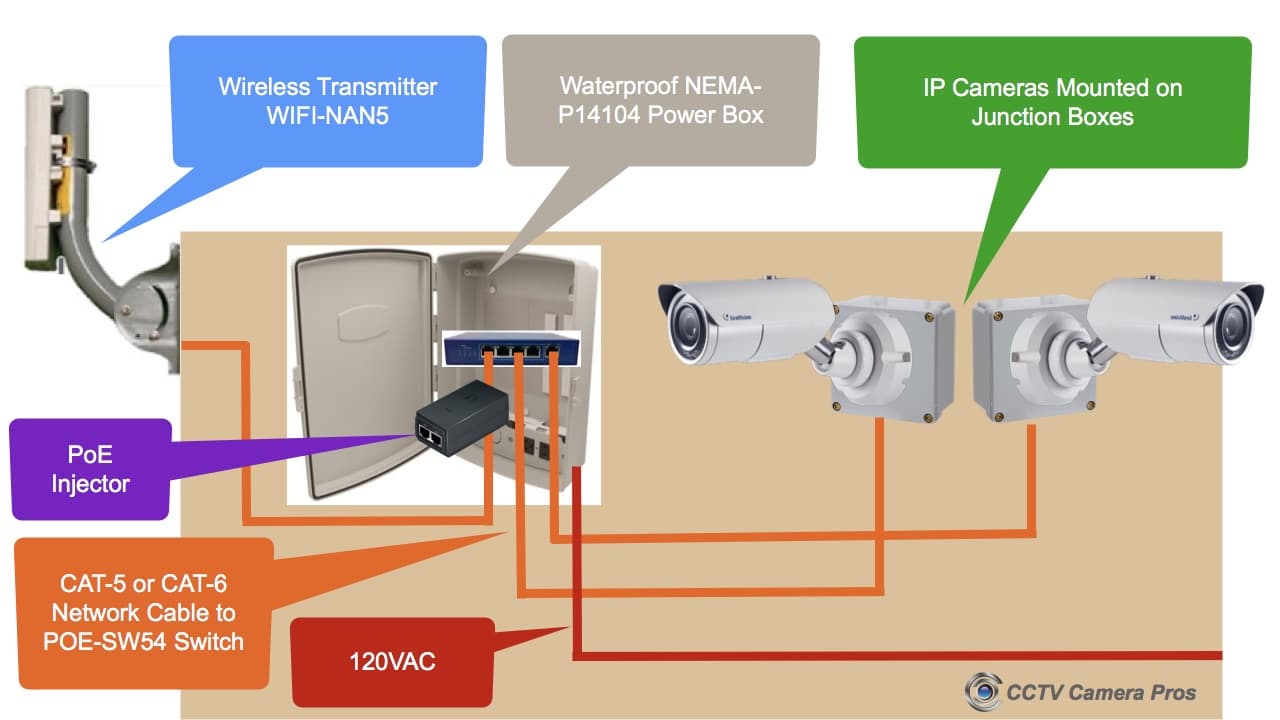 Each of the buildings with wireless cameras will be configured as follows.
2 bullet outdoor IP cameras will be mounted to the exterior wall using a PVC junction box. These are full HD 1080p resolution cameras. They are also weatherproof rated and have built-in infrared night vision. The lens of these cameras provides a 90 degree field of view and can be configured to record to the DVR based on motion detection or continuous recording.
1 weatherproof NEMA enclosure with power will be mounted to the exterior wall.
The power supply in the NEMA box is hard wired to a 110V power source. All of the buildings for this project have power in place located near the camera installation locations. An electrician will be running conduit and the new power lines to the NEMA enclosures. The red line in the above wiring diagram illustrates the power being connected to an existing 110VAC source such as an existing power outlet or switch.
The NEMA box will contain a POE-SW54 4 port power over Ethernet switch and a PoE injector for the wireless transmitter. The wireless transmitter includes the required PoE injector.
The orange wires in the above diagram illustrate the use of CAT-5 or CAT-6 network cable. The IP cameras are wired to the PoE switch in the NEMA box.
1 WIFI-NAN5 wireless transmitter will also be mounted to the wall near the IP cameras with a wall mount J-pipe. The wireless transmitter will be mounted high enough so that there is a direct line of sight to the receiving antenna at the office building. This wireless system uses 5.8Ghz frequency which avoids a lot of potential network congestion and conflict with other networks in the area.
The wireless transmitter is connected to the PoE injector with CAT-5 or CAT-6 network cable. The network port on the PoE injector is connected to the uplink port on the PoE switch.
This creates the transmitting side of the wireless bridge and enables the video signal from both cameras to be transmitted over one antenna. The transmitter connects to the wireless receiver at the office building where the DVR is located, which creates a "wireless bridge".
Something important to note: these are not wireless IP cameras by themselves. By connecting the cameras to a long range wireless transmitter, a "wireless IP camera" is essentially created. One wireless transmitter can send the video signal from more than one IP cameras over the WIFI bridge when you use a network switch.
Point-to-Multi-Point Omni-Directional Wireless Camera Network
Here is a close-up network diagram of the wireless receiving station and DVR located at the storage facility's main office.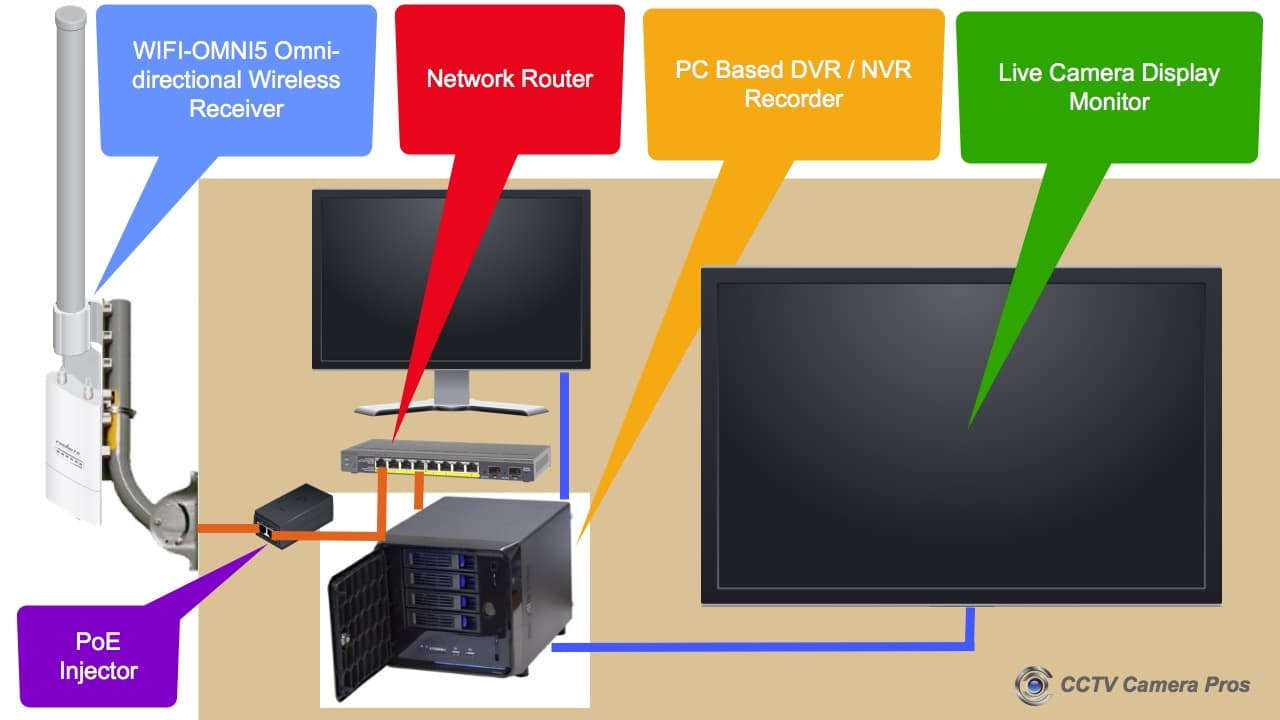 The wireless receiving station and network video recorder are configured as follows.
A WIFI-OMNI5 directional antenna is connected to a WIFI-MR5 outdoor wireless receiver. By connecting the WIFI-OMNI5 to the WIFI-MR5, a point-to-multi-point wireless receiver is created.
The WIFI-MR5 wireless receiver is mounted to the exterior of the office building using the same J-Pipe wall mount that is used for the transmitters. It is installed at the highest point of the office building so there is a clear line of site for all of the transmitters.
The wireless receiver includes a POE injector. CAT-5 is used to connect the receiver to the injector. The injector is connected to the network router or switch located in the office.
A mini PC based Geovision NVR is used as the recorder for this system. These recorders as small, but very powerful. CCTV Camera Pros custom builds these or a per project basis. For systems that need more than a few weeks or months of recorded video storage, we can also use standard towers and rack mount cases. We build PC based NVRs with the software that is included with Geovision IP cameras or Zavio IP cameras.
The PC is built with a dual graphics card so that two monitor can be used. One monitor is used by the office manager to manage the surveillance system. The second monitor is setup as a live security camera display for the office lobby area.
Both Geovision and Zavio NVR software that is included with their IP cameras includes remote viewing software for desktop PCs and mobile devices (Android and iPhone). Office managers and business owners can login remotely to view their security cameras and play back recorded video.
Direct Line of Sight Long Range Outdoor WIFI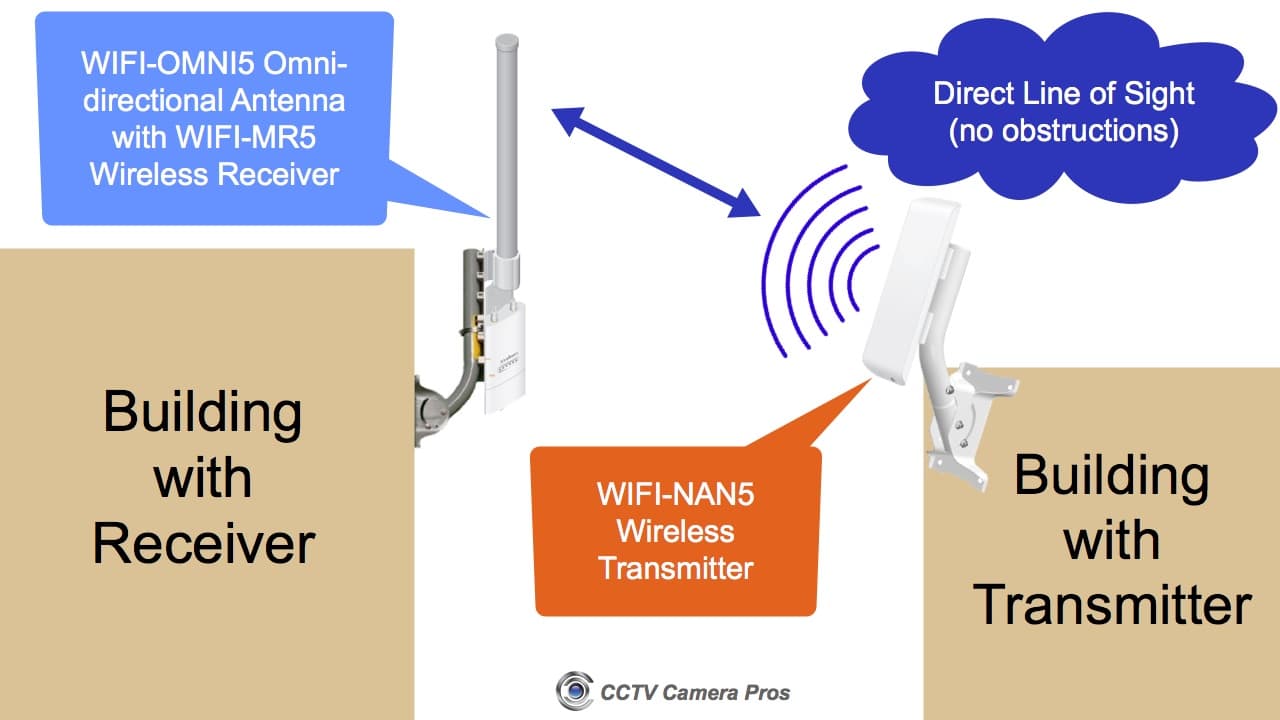 It is important to understand that for a 5.8Ghz long range outdoor WIFI to work, there must be a direct line of sight between all of the transmitting antennas and the omni-directional receiving antenna. Each transmitting antenna can be be locked on and configured to only connect to the receiver. If there is a power loss and the equipment reboots, the antennas will automatically reconnect and the wireless network restored.
Point-to-Point Wireless Network
Some security camera systems may only have one separate building with security cameras, instead of many (like system for the storage yard described above). For example, some homes and farm houses may need to install a few cameras on a barn or garage.  Those barn or garage cameras need to record to the DVR at the main house. There are also many commercial applications where only two buildings needs to be connected over WIFI. A point to point wireless network is used to connect two buildings.

This point-to-point setup is very similar to the multiple building setup, except that for a point to point wireless camera system setup, there is no need for an omni-directional antenna. The system that is used in the above diagram is the WIFI-EH9500 wireless bridge for IP cameras. It includes one WIFI transmitter and one WIFI receiver. Each has a built-in directional antenna. It is designed to connect two buildings (point-to-point).
As you can see in the above example, the wireless bridge can transmit more than on IP camera to the NVR by using a network switch. This is how it works.
The building on the left has power but no network or Internet connection. This may be the barn or garage.
The IP cameras can be indoor or outdoor. All of the cameras are wired to a 4 port POE network switch using CAT-5. The uplink port of the switch is connected to the transmitting antenna using CAT-5.
The receiving antenna is mounted on the building where the NVR / DVR is located. The receiving antenna is wired to the network switch or router. The NVR is connected to the same switch or router.
Please note that although none are picture on the building with the NVR, additional security cameras could be installed on that building and hard wired to the same network switch.
The cameras from both buildings would record video surveillance footage on the one NVR.
Note: other smart home IP devices can also be sent over a wireless bridge. You are not limited to IP cameras.
Non-Direct Line of Sight Outdoor Wireless
So far, I have stressed the importance having an unobstructed direct line of sight between WIFI antennas. The 2 wireless systems described above use 5.8Ghz frequency antennas. 5.8Ghz is great for long distances and high bandwidth throughput. Unfortunately, 5.8Ghz WIFI is not good at traveling through objects such as trees. So, what if a direct line of sight is not possible?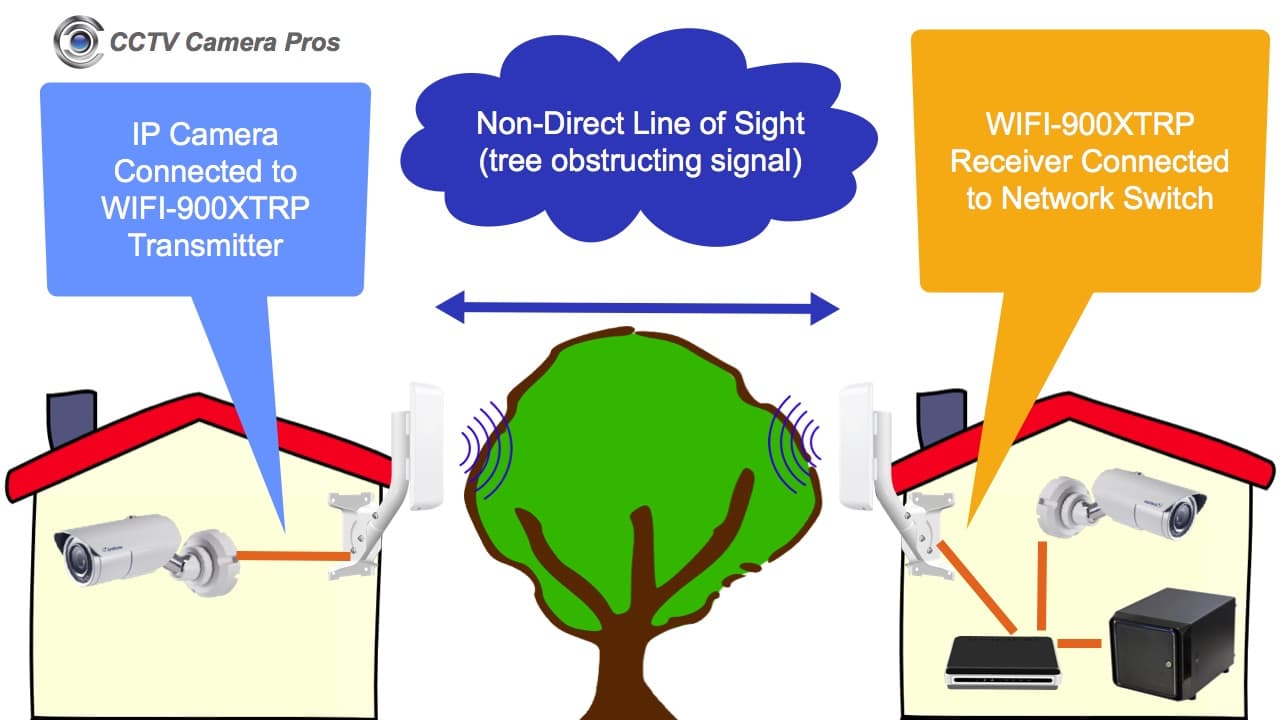 900 MHz WIFI is able to penetrate some objects. However, there is a trade-off when using a 900 MHz system.
The bandwidth throughput is much lower.
The max WIFI distance is much lower, and decreases based on the number and density of the objects it must pass through.
For example, this 5 GHz wireless camera system can achieve up to 150 Mbps at a distance of 3 miles with a direct line of sight. But it can not transmit through obstructions. This 900 MHz non-direct line of sight wireless camera system is rated at about 1500 feet when the signal must pass through trees, and the data transfer rate drops to about 1.5 Mbps.
Custom Wireless Camera System Design Services
The team at CCTV Camera Pros designs wireless camera systems everyday for DIY and professional installers who do not have the time to learn all of the technical details. We have many customers and installation partners that are extremely proficient in running cable and mounting cameras perfectly, but they do not want to learn the IT and configuration part of wireless and IP network setups.
This works out fine because CCTV Camera Pros can pre-configure these systems for customers before we ship them. We also are dedicated to supporting these systems after they are installed. We provide technical support for our customers and our installations partner's customers for the life of the products that we supply.
We typically design these systems using Zavio IP cameras or Geovision IP cameras because we supply them at very competitive prices and can provide a very high level of support with them. However, we can design outdoor wireless systems for all major brands of IP cameras including Axis, Vivotek, Hikvision, Dahua, Bosch, Honeywell, Samsung, and all others.
Choosing the best outdoor security camera system really depends on the requirements of that particular system. The team at CCTV Camera Pros is here to help if you need it.
If you would like help designing a system or have any questions, you send me an email here.
---
Related Video Surveillance Products