Outdoor Junction Box for Security Camera Installation
Watch this video to see why CCTV Camera Pros highly recommends using a weatherproof outdoor junction box for security camera installations on the exterior of homes and buildings. Whether you are installing BNC security cameras or network IP cameras, the connectors on the ends of the cable takes up space. A junction box provides a storage space for the excess cable slack and connectors.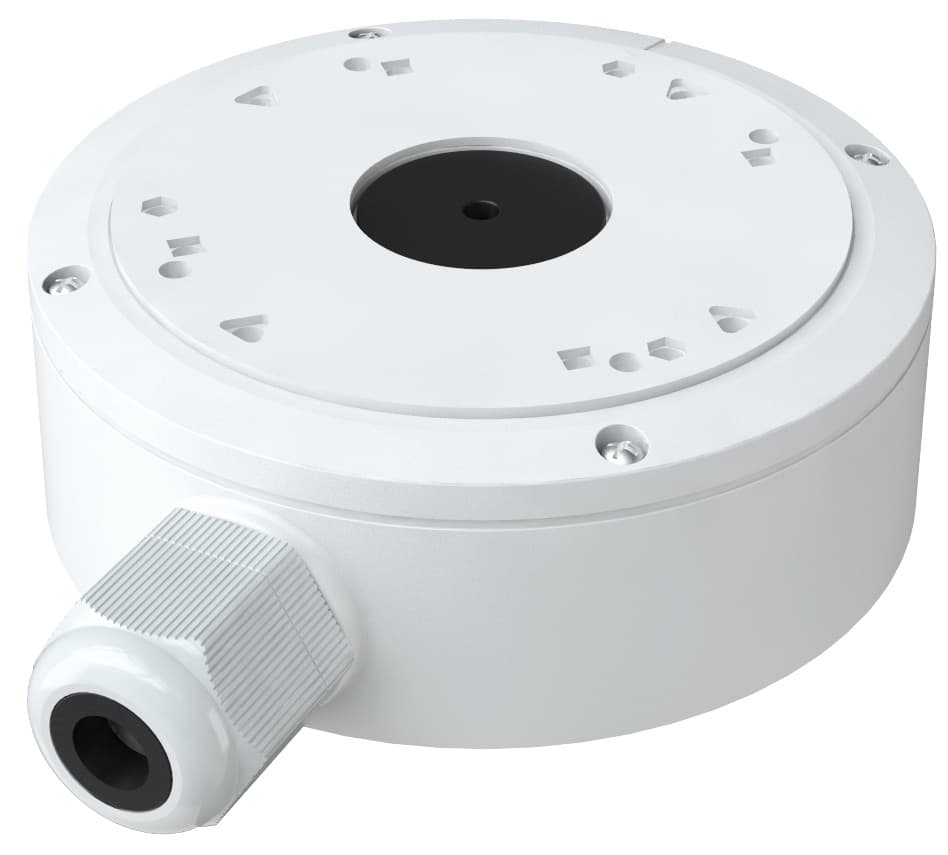 Here is the outdoor camera junction box that is we used to install this bullet security camera on the exterior of CCTV Camera Pros warehouse. The junction box works will all of the bullet IP cameras on this page. It also works great with all of the bullet CCTV cameras (BNC / coax cable) on this page.
---
Junction Box Installation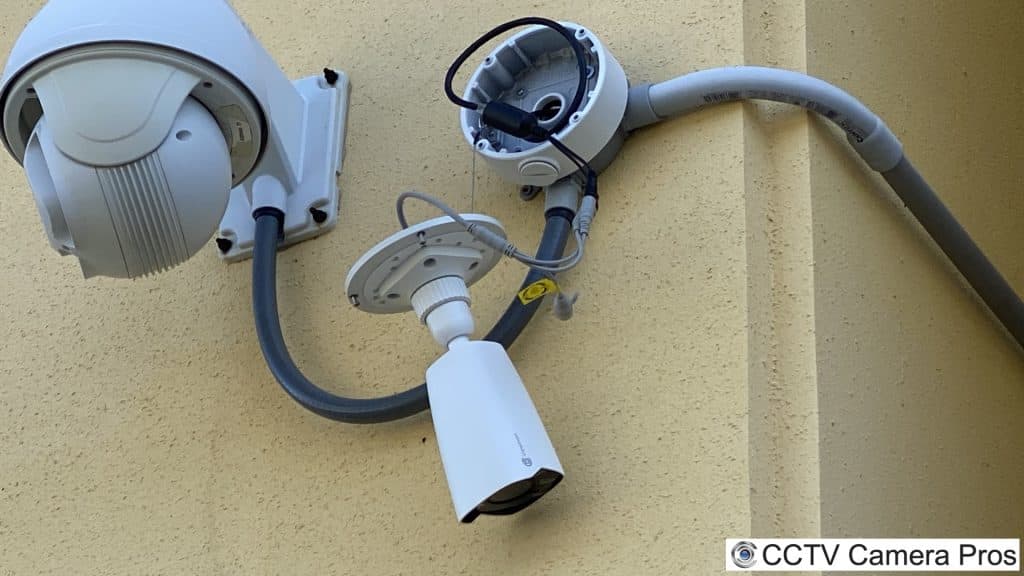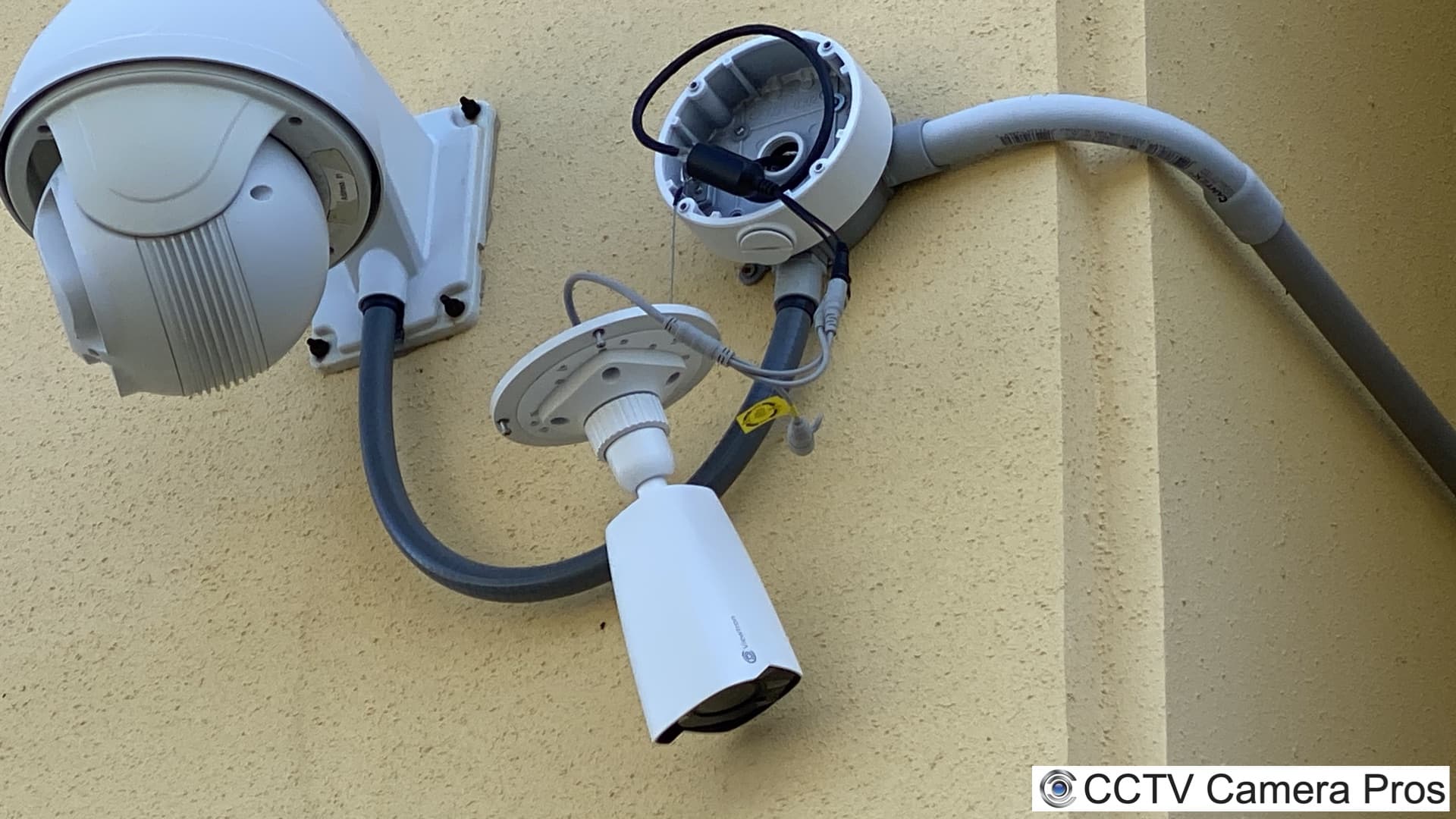 Take a look at the above image. If we did not use a junction box for this installation, that excess cable and the bulky connection ends would have to be pulled back into the wall. This would require a larger hole to be drilled in the concrete wall of the building and there is risk that the connection could get stuck in the hole and not be able to be freed up when the camera eventually needs to be replaced.
Easier Installation and Maintinance
By using a junction box for your exterior camera installation, your camera is much easier to maintain and later replace.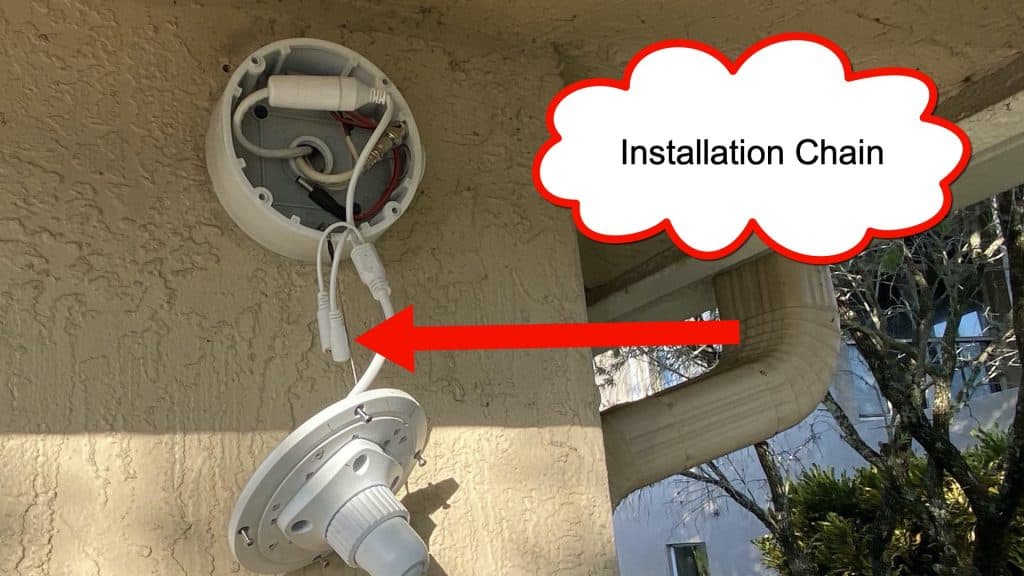 The installation chain that holds the cover plate to the base is very useful when you are connecting your camera to the cable. The chain also makes it easier to get the excess cable and connectors organized on the base housing before attaching the plate to the base.
---
Commercial Installation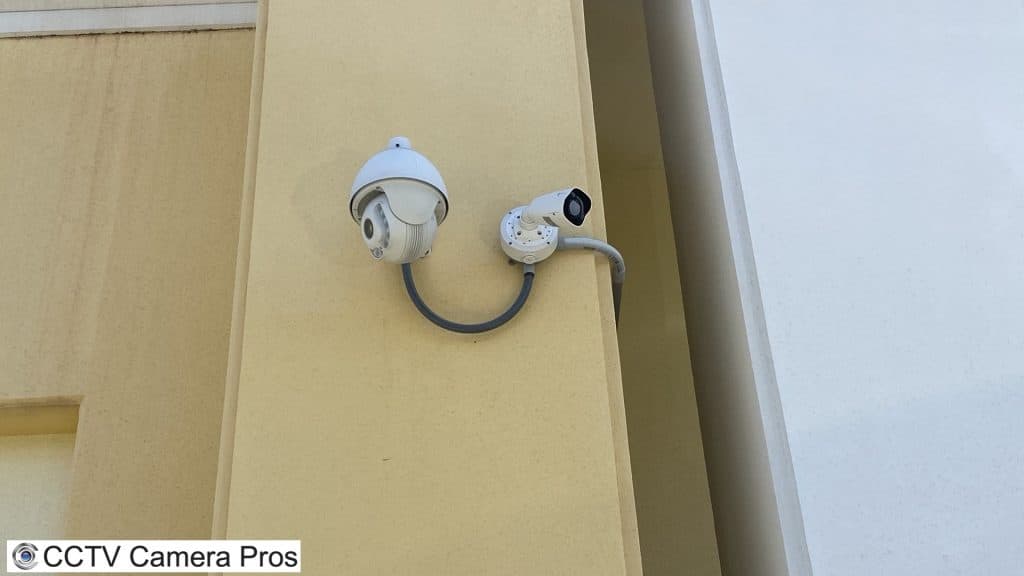 This is what the junction box looks like on our commercial building.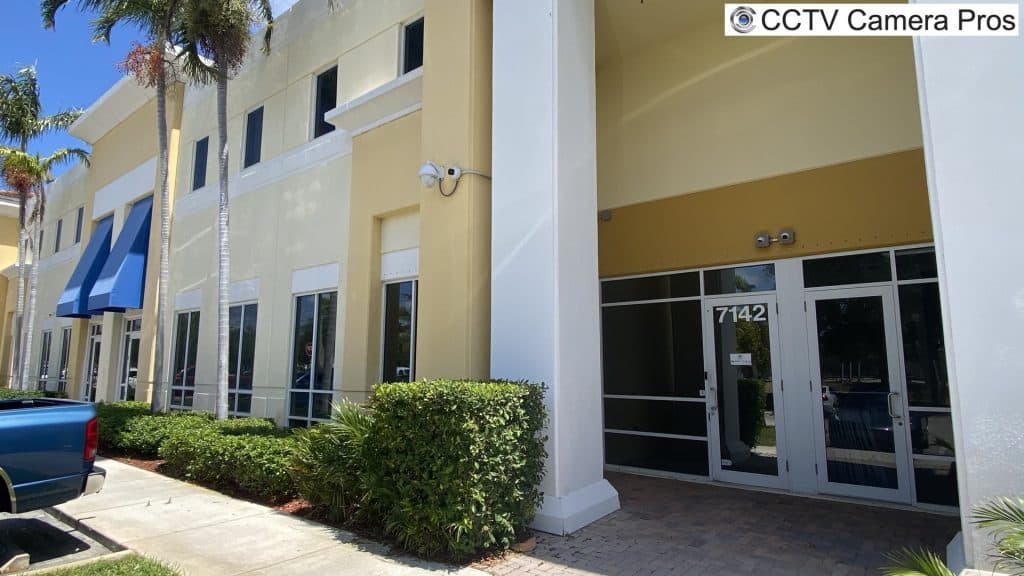 ---
Home Camera Installation
These camera junction boxes also great for home security camera installations. Here are some pictures of the network IP cameras that are installed on the front of my house.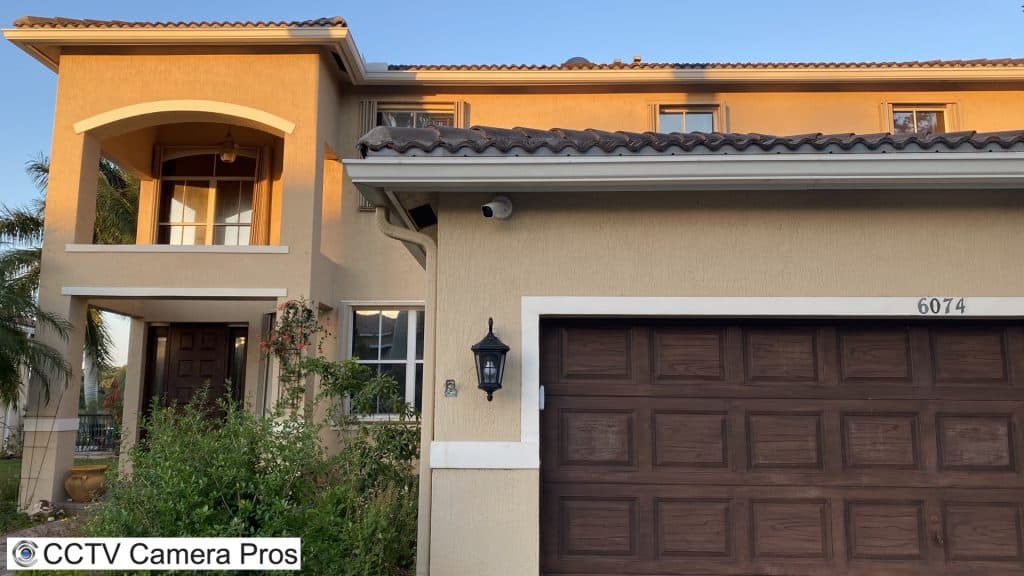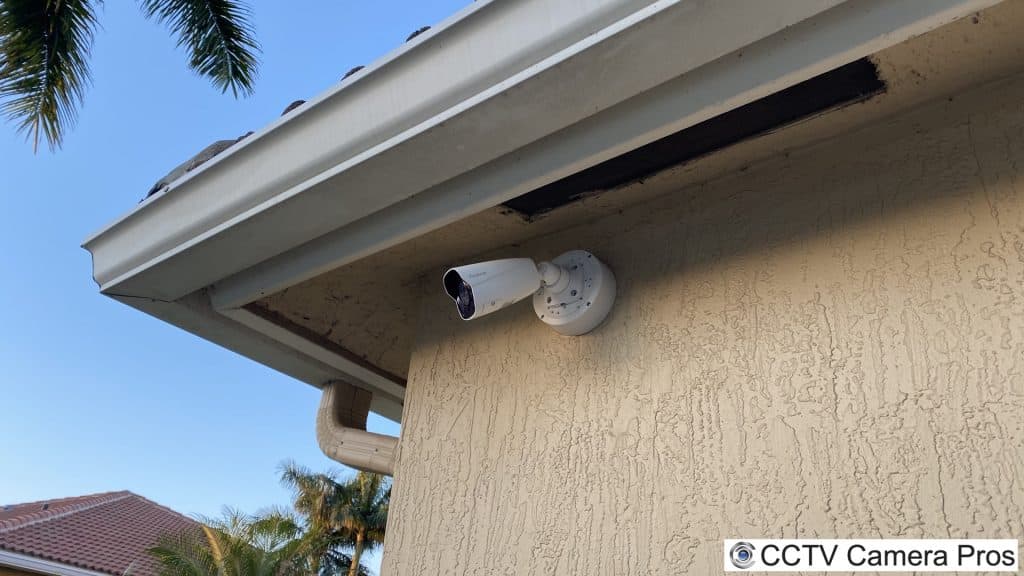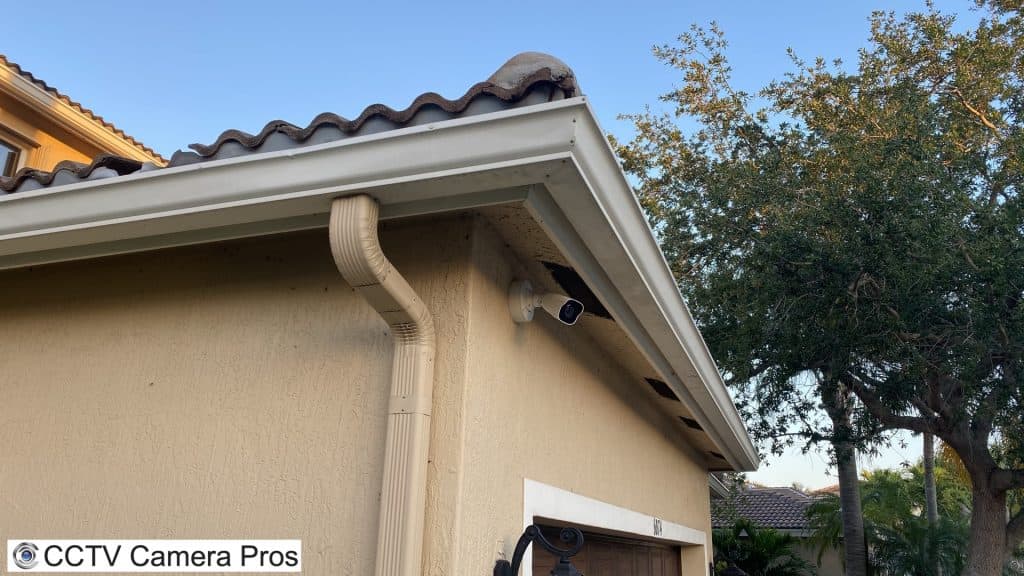 ---
Junction Box for Dome Security Cameras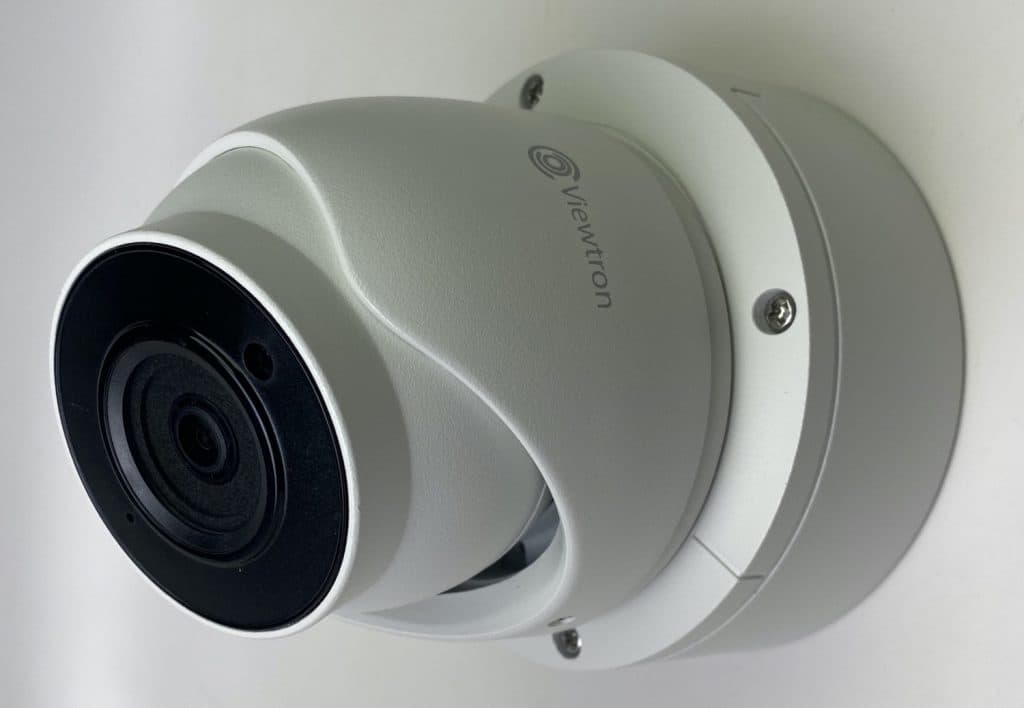 For small dome cameras, we have this smaller security camera junction box. It is 4.6 inches in diameter. This junction box works great with all of the dome BNC security cameras on this page. It also works with all of the dome IP cameras on this page.
---
Another House Installation
Here are some pictures taken from another home security camera installation. This one uses these dome 4K AI security cameras.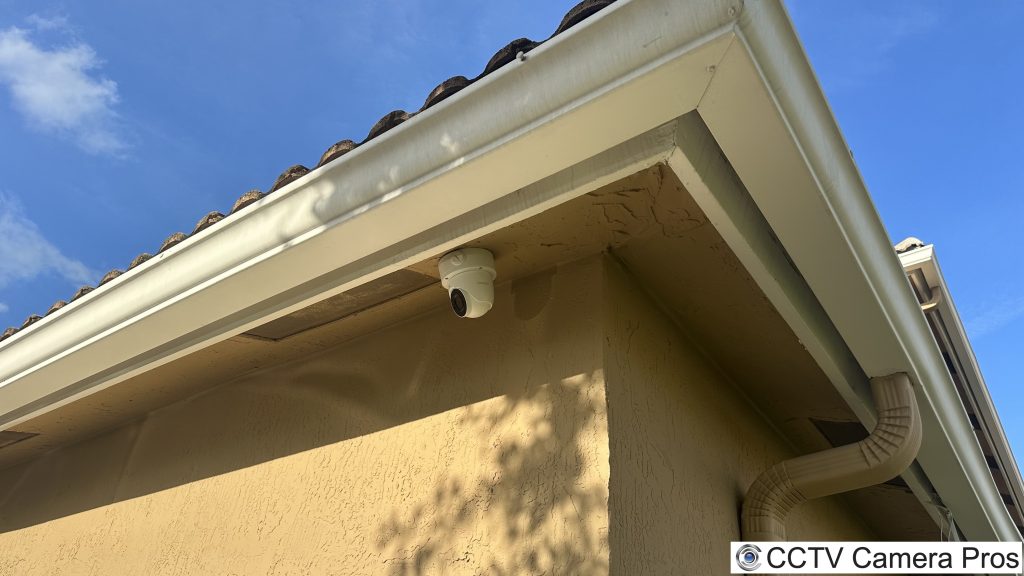 You can see the junction box mounts very neatly under the eave of the roof at this house.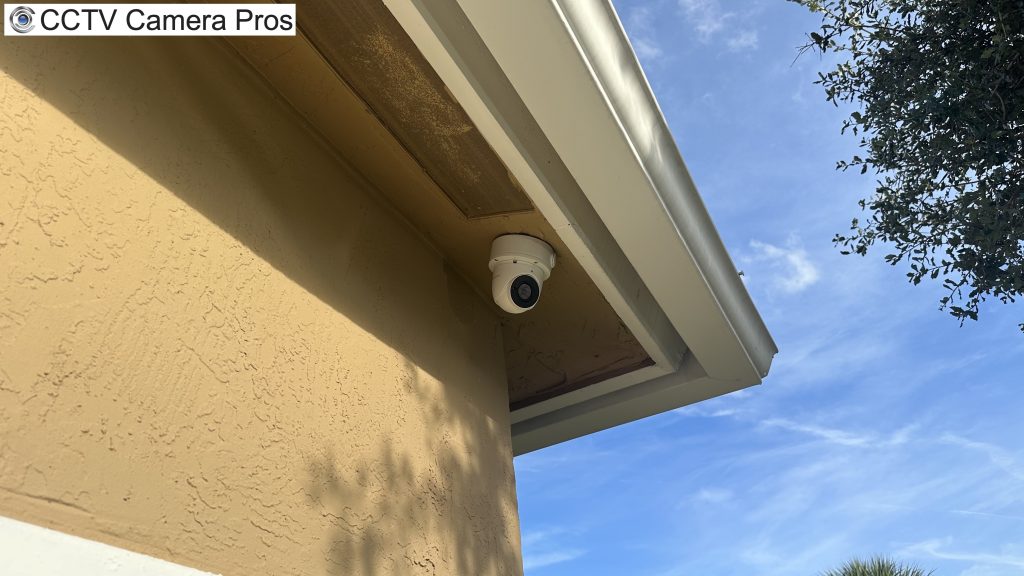 Here is another angle of the under the roof eave installation.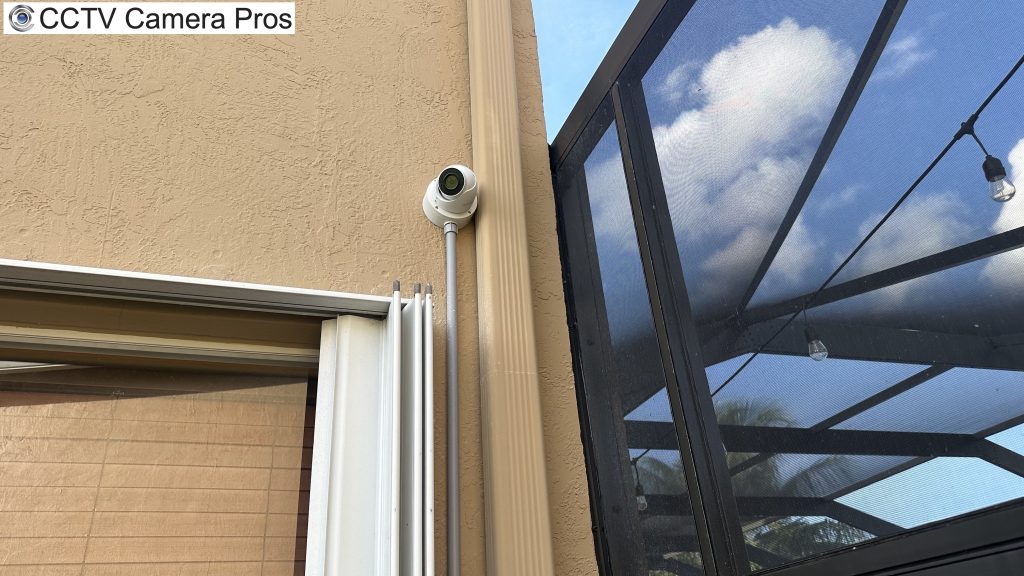 Here is an installation that shows how to use wire conduit with the junction box. There is a pre-drilled and threaded hole for 1/2 inch conduit. This is the 4.6 inch model junction box. The larger 5.5 inch model supports 3/4 inch conduit.
---
Junction Box for Bullet Cameras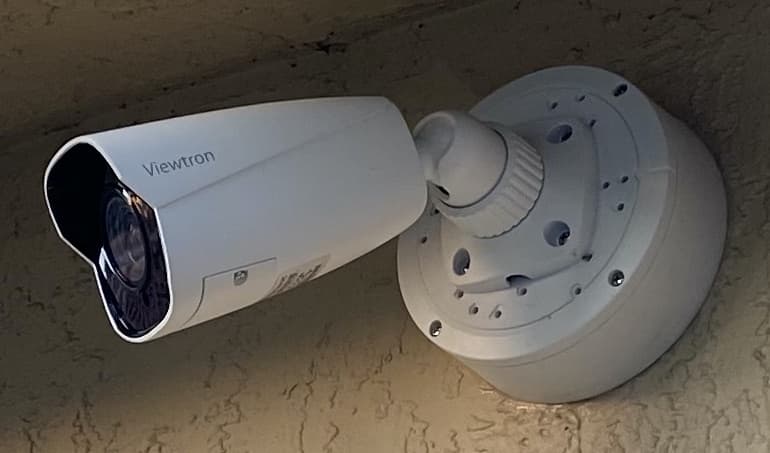 Here is the 5.5″ round junction box for bullet cameras and larger domes.
---
Universal Mount Patterns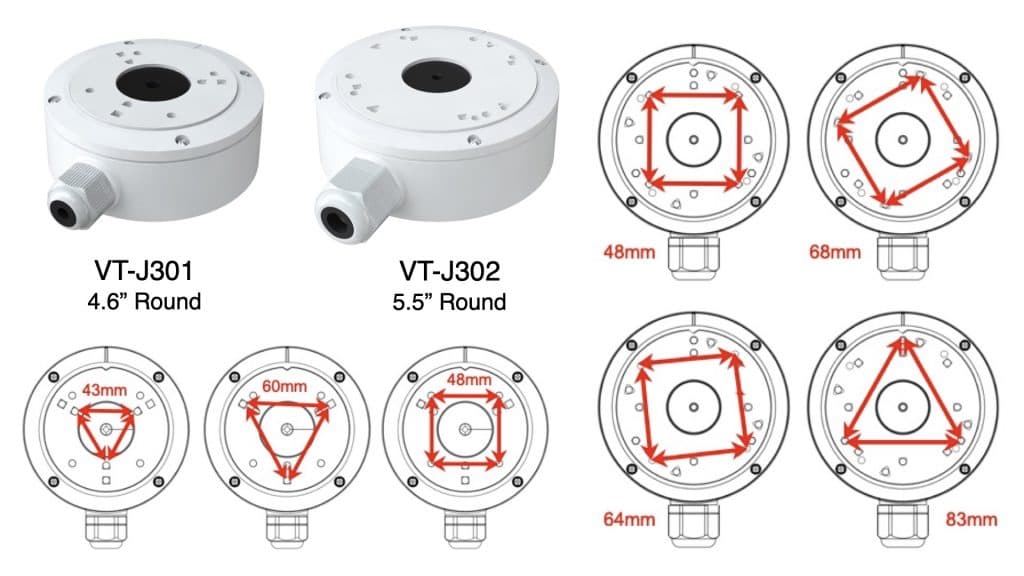 Although we supply these junction boxes with Viewtron security cameras, the pre-drilled screws have many universal patterns. They are designed to work with as many different security camera manufacturers as possible. You can find the 4.6″ and 5.5″ model outdoor junctions boxes here.
---
Security Camera Pole Mount Bracket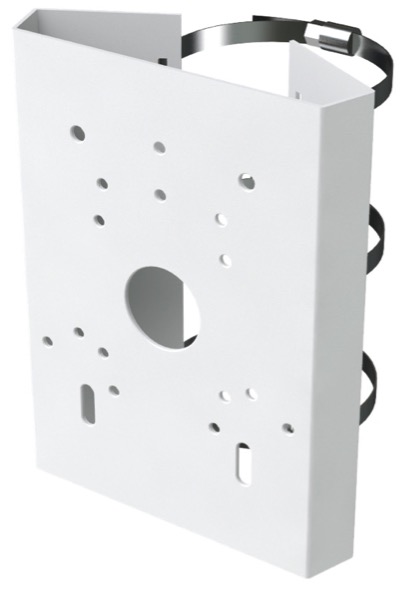 Viewtron junction boxes can be installed on this security camera pole mount bracket. It allows you to mount just about any camera to a round pole.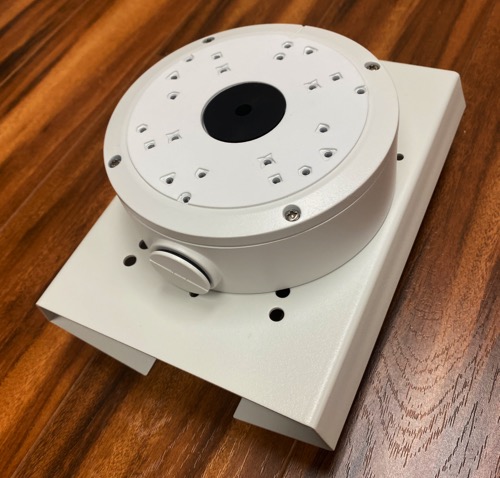 This is what the pole mount looks like with the VT-J302 junction box mounted to it.
---
Corner Mount Bracket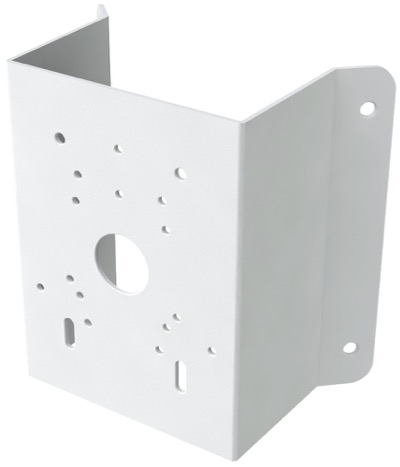 Viewtron junction boxes are also compatible with this security camera corner mount bracket. It allows installers to mounts cameras on the corner of buildings.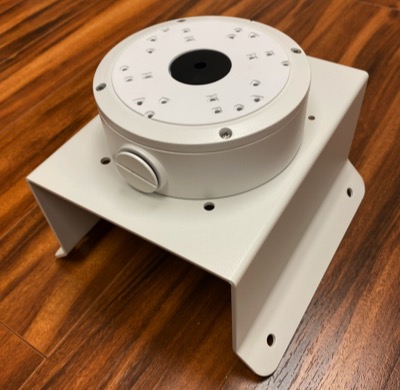 This is what the corner mount bracket looks like with one of our Viewtron junction boxes mounted to it.
---
Related Products & Pages
---
Video Transcript
Here is the text transcript of the video at the top of this page.
Good morning everyone, Mike from CCTV Camera Pros here. Today I want to talk about why I always recommend using an outdoor junction box for security camera installations on the exterior of a building.
Number one, the first reason is when you're running cable to cameras you always have extra slack on the end, you don't want your cable run to be too long, and whether you're using BNC security cameras or network IP cameras you have ends on the end of the cable, RJ-45 for IP cameras or BNC connectors for analog CCTV. In addition, IP cameras can have a pretty big connector for the RJ-45 connector, and you also have a power connector in the case of analog cameras. So you need some extra room to store that extra cable slack, as well as the extra room that the cable ends take up. So the outdoor junction box provides a nice little housing for that extra cable and for the connectors.
Number two, when you're installing on the exterior of a building you're using either Tapcon screws in the case of CBS construction or concrete construction, or some type of sturdy anchor in the case of wood-frame construction. And so if you ever needed to take your camera down to troubleshoot or replace it, these exterior cameras don't last forever, even the best ones that we sell, you're eventually going to replace these things, you don't want to be dealing with permanent Tapcon screws or anchors. So if you Tapcon screw the junction box to the wall and then you use the pre drilled machine screws to mount the camera to the junction box, it's a very simple operation to later remove that camera with the machine screws, the junction box stays intact with the Tapcon anchors and you don't have to deal with that.
And by the way, these Viewtron junction boxes, they're universal. Although we sell them mostly with our Viewtron IP cameras and Viewtron BNC cameras, they have pre-drilled screw patterns for almost every security camera out there, so you can use these junction boxes with third-party cameras as well.
Number three, it makes the installation easier. Once you have that junction box installed there's a chain that connects the base of the junction box to the plate that makes it very easy with dealing with making all the connections inside the junction box, getting the cable tucked away when the camera can be mounted to the plate and just dangling there safely from the chain while you're dealing with all that, it's extremely convenient. So like I said, I almost always recommend these outdoor junction boxes for security camera installations to exterior building. It's a no brainer. It's a little bit of extra cost upfront, but the savings long-term with the hassle of dealing with taking cameras down and replacing is a huge savings.
If you have any questions about any of this you can reach out to me anytime, I can be reached at mike@cctvcamerapros.net. If you want to learn more about these junction boxes we have four and a half inch round and five and a half inch round, the four and a half inch are for smaller dome cameras, and the five and a half are for bullet cameras and bigger domes. You can learn about both these, just go to www.cctvcamerapros.com/jbox.
Thank you for watching.