Remotely Trigger an Alarm Light via DVR Alarm Output
Watch this video to learn how-to remotely trigger an alarm light that is connected to the relay alarm output port of a Viewtron security camera DVR / NVR. I will demonstrate this using the Viewtron CMS software for Mac and Windows. I connected a 12V DC alarm strobe light to the back of the Viewtron IP camera NVR that at CCTV Camera Pros.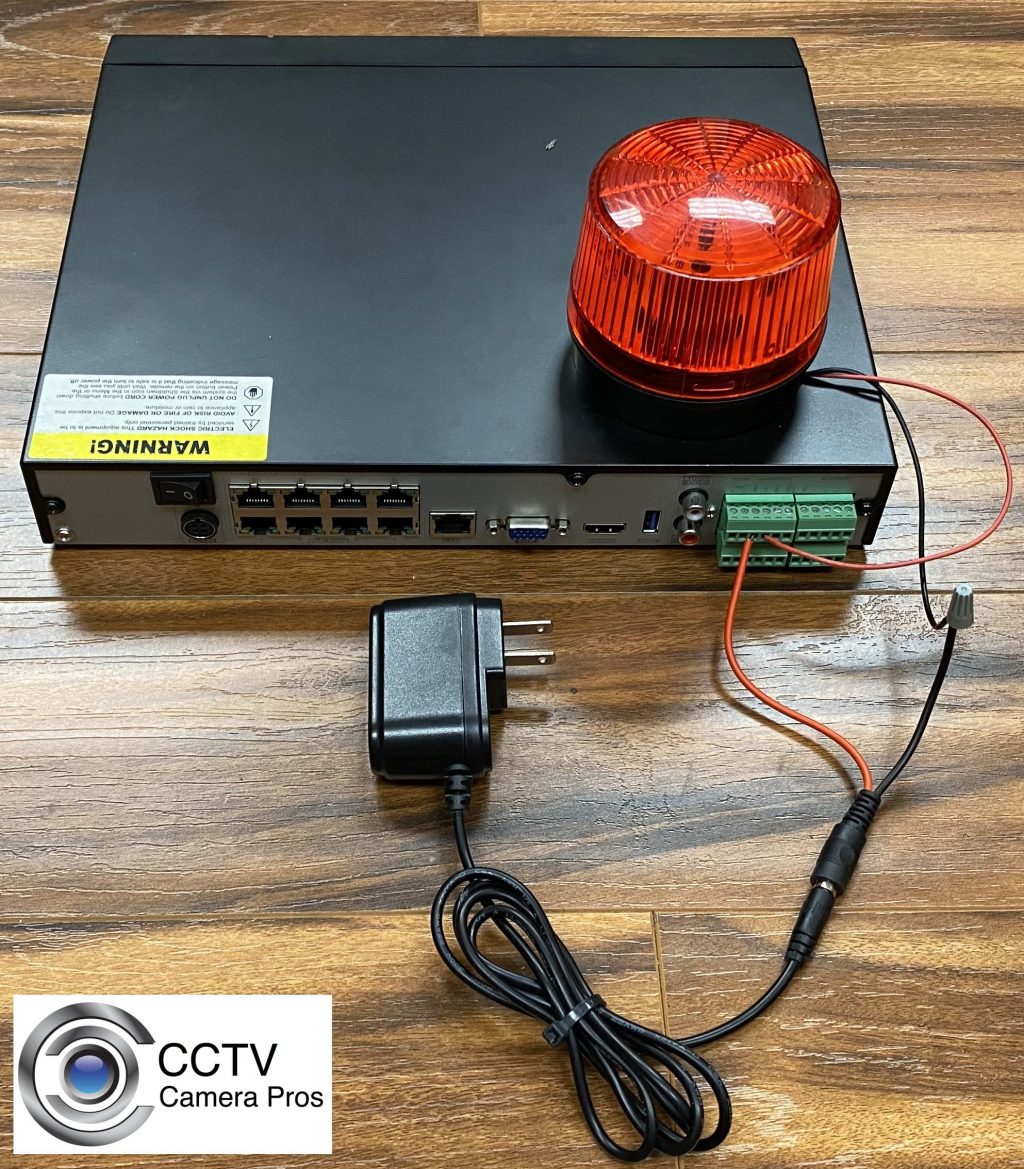 All Viewtron CCTV DVRs and IP camera NVRs have alarm relay output ports like the one that you see the strobe light connected to in the above image. In addition to being able to trigger these output ports manually, they can also be enabled automatically based on alarm events detected by the DVR. Motion detection, AI object detection, facial recognition, license plate recognition are a few examples of ways to automatically trigger external alarm devices.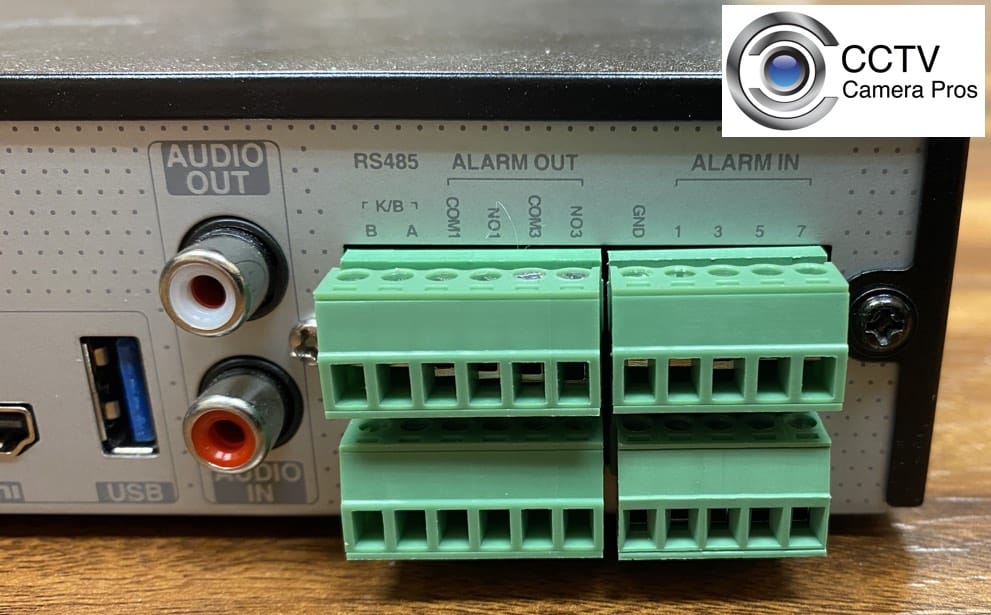 Here is a close-up view of the alarm inputs and alarm outputs on the back of a Viewtron DVR. You can find detailed DVR alarm output installation instructions here.
---
Trigger Alarm via Mobile App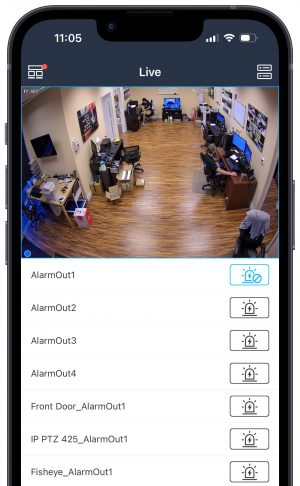 You can also manually enable / disable these alarm outputs remotely over the Internet using the Viewtron mobile app for iPhone and Android.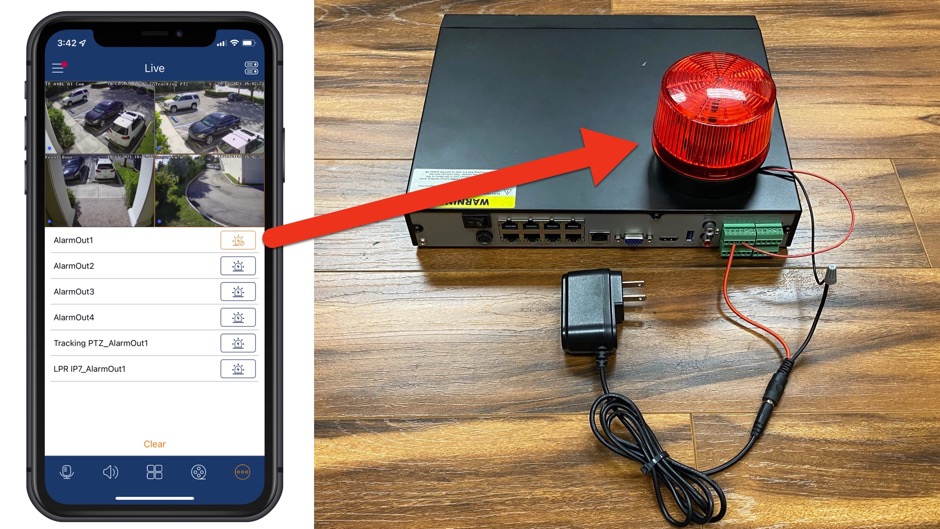 Watch this video to learn how to turn the DVR alarm outputs on / off remotely using the mobile app for iPhone and Android.
---
Mac & Windows CMS Software Videos

You can watch additional demo videos using the Viewtron security camera software for Mac and Windows here.
---
Mobile App Videos

You can watch additional video demos of the Viewtron mobile app for iPhone and Android here.
---
Security Camera Alarm Videos

You can watch additional security camera alarm videos here.
---
Video Transcript
Hey guys, Mike from CCTV Camera Pros here. Our Viewtron security camera DVRs for BNC cameras and our NVRs for IP cameras both have a burglar alarm inputs and outputs. So you can connect external burglar alarm devices to them, and they can be triggered either by AI detection or motion detection or any other type of alarm that the DVR or NVR supports. In addition, you can trigger them manually. You can enable it manually, I should say, from the desktop software for Mac and Windows, as well as the mobile app for iPhone and Android. In this video, I'm going to show you how to trigger this strobe light that I have connected to this Viewtron NVR from my MacBook that's running the NVMS software. The software is identical on Windows, so this process is the same for both Windows and Mac. Here's the live security camera view from the NVMS software on my Mac, and I'm going to double click on this camera right here, which has a view of the alarm light that I connected to the NVR.
And so I'm going to go up to the menu here and select alarm center. And on the alarm center screen, on the manual alarm out screen, you select the alarm out that you want to trigger and then click on the trigger alarm out. So I'll switch back to the live view of that security camera. So you can see the alarm light flashing. It's kind of strange. The video doesn't pick up the flashing well, you'll see it here in a second, and it wasn't because it was delayed. It's just the, I guess the video frame rate messes with the flashing. So I'm going to come in here and pick it up so you can see it a little better. It helps a little bit, but again, for some reason, picking up the video of a strobe light doesn't work so great, but you can see that the alarm light is in fact flashing there.
So next I'll go back up to the menu and select alarm center again, and then I'll close out that alarm. I'll turn it off and I'll switch back to the office security camera view again. And now you can see the strobe light is off. If I double click on the screen, I switch back to the four camera view. Guys, I hope this video has been helpful. Here is a snapshot image of the back of the NVR to show you how the alarm light was connected. And here's a close up of the alarm block. Now I want to mention a couple other things before we wrap up. I did this video a little different. In case you didn't notice, I'm capturing this video using one of our security cameras. So you could see the facial recognition going on over here. I'm capturing this from our NVR and using one of our 4K AI cameras, so I thought that was pretty neat.
Anyways, in regards to the CMS software for Mac and Windows, like I said, it works the same and it can connect to the BNC DVRs from Viewtron, the IP camera NVRs, and directly to IP cameras, the DVRs, all of our DVRs NVRs have those alarm inputs and alarm outputs, and some of our IP cameras have alarm inputs and outputs as well. If you have any questions about any of this, feel free to reach out to me anytime. I could be reached directly at mike@cctvcamerapros.net. If you want to learn more about Viewtron security camera systems, I have a whole bunch of demo videos like this of our LPR cameras, our AI cameras. We have hundreds of videos on these Viewtron systems. Please visit www.cctvcamerapros.com/Viewtron. Thank you for watching.