What DVR is Compatible with QSEE Cameras?
This video and article discussed a common question that we hear at CCTV Camera Pros: "What DVR is compatible with QSEE cameras?".

I strongly believe that Viewtron security camera DVRs are the best choice as a replacement DVR for QSEE surveillance systems. These are the main reasons.
Compatible almost all BNC video formats – works with HD-TVI, AHD, HD-CVI, and analog CCTV (CVBS) video formats. QSEE has used all of these video formats at some point in time. Viewtron DVRs work with all of them.
Compatible with all coax camera resolutions – QSEE made various models of BNC / coax cable security cameras with various resolutions. Viewtron DVRs support all video resolutions: CIF, D1, 960H, 1mp / 720p, 2mp / 1080p, 3mp, 4mp, 5mp, 8mp, 4K.
Easy to Use – Watch the below video demo to see how easy Viewtron DVRs are to use.
Supports IP Cameras – In addition to the BNC / CCTV camera support, VIewtron DVRs also support network IP cameras.
Great Mobile Apps – The iPhone app and Android app included with Viewtron DVRs is outstanding. It supports live remote camera viewing and recorded video search and playback. You can watch demo videos of the mobile apps here.
Great Desktop Software – The Windows and Mac software is also great. It also supports remote camera viewing, as well as s=playing back recorded video surveillance footage. You can watch demo videos of the desktop software here.
Outstanding Service & Support – Unlike many of our competitors, CCTV Camera Pros takes customer service and technical support very seriously. Give us a try by calling us during business hours. See if you get a very competent person that picks up the phone at our office. You will. Monday – Friday 9:00 – 5:00 EST 888-849-2288 or 561-433-8488.
Please note there is one video surveillance format that is NOT supported by Viewtron DVRs: HD-SDI. QSEE did make HD-SDI cameras for a while, however, they were not their main product line and there are not too many HD-SDI DVRs our there. If you are unsure of the video format that your QSEE cameras use, please email me the model # and I will help you research.
---
Easy to Use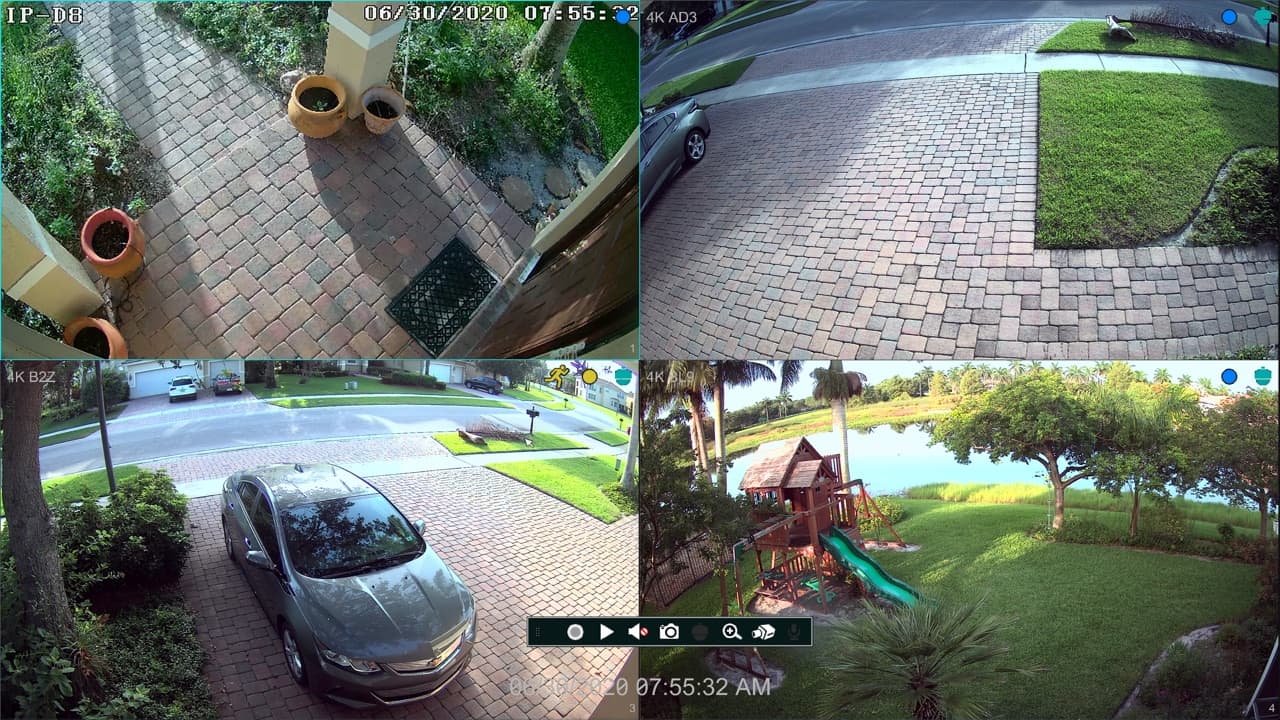 The user interface on Viewtron CCTV DVRs is so simple.  Please watch the above video for a demo of a home security camera system that uses a Viewtron DVR and Viewtron 4K security cameras.
---

Viewtron DVRs are available in 4 channel, 8 channel, and 16 channel models.
---
Excellent Remote Security Camera Viewing

Monitor your security cameras remotely from iPhone, Android, Mac, and Windows. Learn more about Viewtron security camera apps and software here.
---
QSEE Replacement Cameras

Are you looking for replacement QSEE cameras for your exiting system? Maybe your DVR still works fine but some of your cameras have failed? I can help you determine which cameras are compatible with your system. These Viewtron HD BNC security cameras are compatible with most QSEE DVRs, however, you can email me the model of your DVR and I will confirm to be sure.
---
Outstanding Customer Service & Technical Support

We take customer service and technical support very seriously, but don't take my word for it. Verify our ratings on ResellerRatings.com and the BBB (Better Business Bureau) website.
---
Security Camera Articles & Videos
---
Video Transcript
Here is a text transcript of the video at the top of this page.
What DVR is compatible with QSEE Cameras? Good morning, everyone. Mike from CCTV Camera Pros here. This is a common question that I get here at CCTV Camera Pros, especially since QSEE went out of business earlier this year. And to be honest with you, we got this question a lot even before they were out of business because they weren't known for their best quality, especially when it comes to customer service. Anyway, customers are now stuck with old systems, and when the DVR goes bad, they're left confused with what they can use as a replacement DVR on a QSEE Security Camera System. The good news is QSEE, like most security camera manufacturers, used open standards with their BNC security cameras, including HD-TVI, AHD, and HD-CVI along with older systems that just used standard analog CVBS video format.
Our Viewtron Security Camera DVRs are compatible with all of those formats and all resolutions, including the oldest legacy resolution, which is SIF, all the way up through 1080p, which is two megapixel, three megapixel, four megapixel, even eight megapixel, which is 4K resolution. Our Viewtron DVRs will work with all QSEE cameras that are BNC connector with coax. The only format it won't work, and not many of these were made, is HD-SDI. The good news is HD-SDI was not used very long in the security industry, and most QSEE systems are not HD-SDI format.
If you're looking for a replacement DVR for your old QSEE system, or if you need some replacement cameras, maybe your DVR is still working, but you're trying to figure out what cameras work with your QSEE system, feel free to reach out to me any time. I can be reached at mike@cctvcamerapros.net. These Viewtron DVRs are excellent. Their remote viewing capability is great. They include remote viewing apps for iPhone and Android, and desktop software for Mac and Windows. Best of all, the customer service and tech support that we provide at CCTV Camera Pros is second to none, and that's lacking by almost all of our competitors, to be honest. If you want to learn more about these Viewtron DVRs, please visit www.cctvcamerapros.com/viewtron-dvr. Thank you for watching.