Live Security Camera Display: CCTV Video Multiplexer vs DVR
Many of our customers at CCTV Camera Pros use security cameras for live video display on a TV monitor where no video recording is needed. A CCTV video multiplexer (video mux) is usually the best solution for these customers, however a security camera DVR sometimes makes more sense. In this video, I will discuss some of the considerations when deciding between a multiplexer and DVR for live video display applications
Video multiplexers have multiple BNC video inputs and support multiple display layouts where single and multiple cameras can be displayed on a TV or computer monitor via HDMI and / or VGA video output. We have models that support analog CCTV cameras (CVBS). We also have hybrid HD multiplexers that support CVBS cameras as well as the latest HD over coax security cameras (AHD, HD-TVI, HD-CVI video formats supported).
CCTV Video Multiplexer / Quad Multiplexer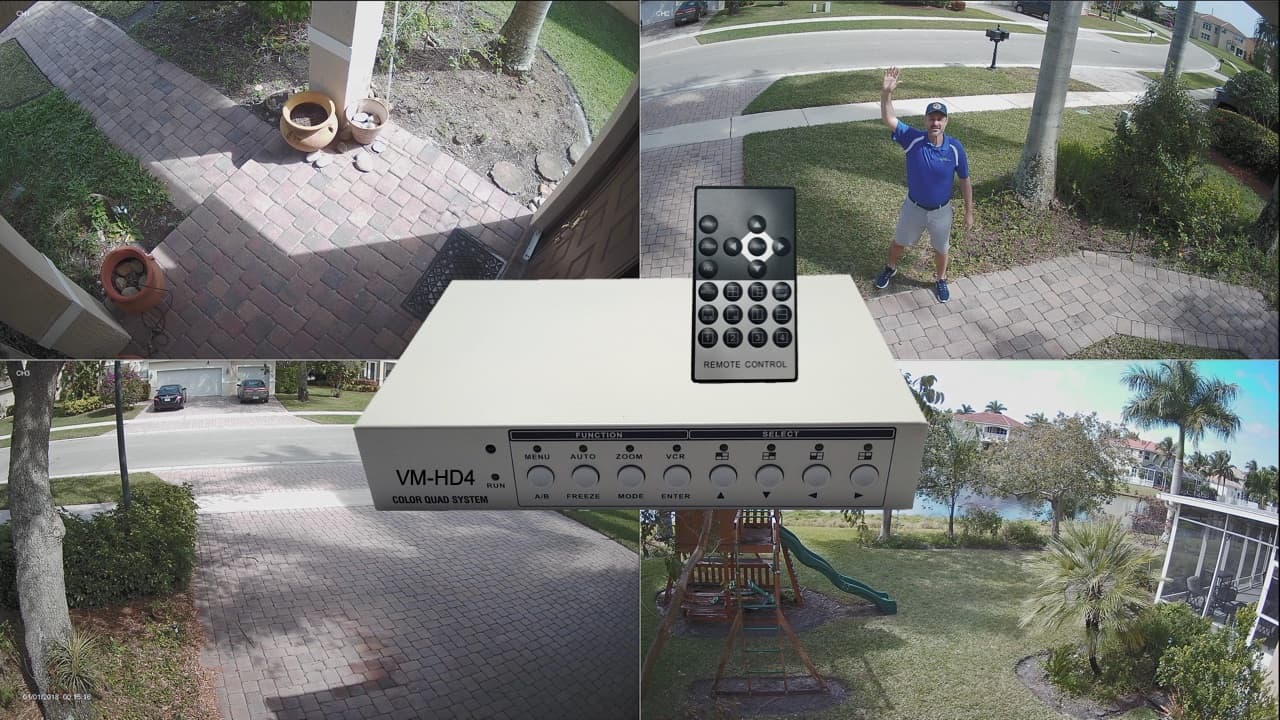 Watch this video demo to see our 4ch HD CCTV video multiplexer being used as a live TV display system for multiple home security cameras. 4 channel models are also known as CCTV quad processors. 9 channel and 16 channel models are also available.
Here are the main features of our video multiplexers.
Real time live video display from multiple cameras.
Switch between single camera and various layouts of multiple video camera views using wireless remote control.
Dwell time function supports displaying a single camera and automatically rotating the view to each camera.
All BNC video signal inputs support analog CCTV security cameras (CVBS) and HD BNC cameras (all HD hybrid models).
VGA and HDMI TV monitor outputs, supports dual monitor output.

You can find all of our hybrid analog CCTV and HD security camera multiplexers here.
---
Complete Live Camera Display Systems
In addition to supplying multiplexers separately, we also supply these complete live TV display systems for security cameras. We have single and multiple camera  systems available. These systems are for live display only – no recording.

---
Security Camera DVR Live Video Display
For customers that also want to view their cameras remotely from over the Internet, a Viewtron security camera DVR may be a better solution. Why? Because Viewtron DVRs (and also IP camera NVRs) have built-in video multiplexer capability and also support remote access from Android and iPhone mobile apps. Windows and Mac desktop software is also provided. Also, some customers do not need recording video now but many consider it in the future. If there is any chance that you want to record video later, you should consider getting a DVR instead of a multiplexer.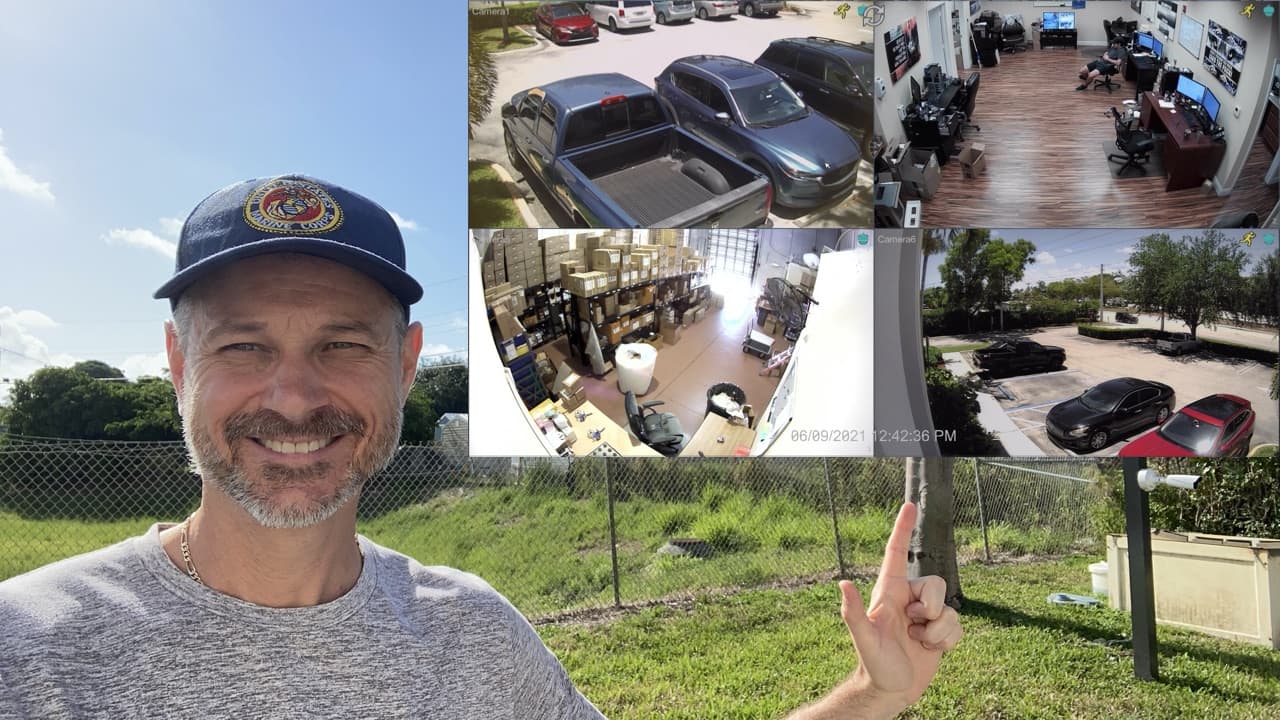 Watch the above video to see how to setup the customer live video display on a Viewtron security camera DVR. The same functionality is available on Viewtron IP camera NVRs. CTV Camera Pros supplies Viewtron hybrid BNC DVRs in 4ch, 8ch, and 16ch models. We have IP camera NVRs available in 8ch, 16ch, and 32ch.
We also have complete BNC security camera systems and IP camera systems available. A lot of times, we design systems for customers and provide a custom quote.
---
Remote Security Camera Monitoring
Here are a few videos that demonstrate the remote live camera view supported by Viewtron DVRs and NVRs. If you want to monitor your security cameras from remotely over the Internet, you need to use a network capable DVR, instead of a multiplexer.
iPhone App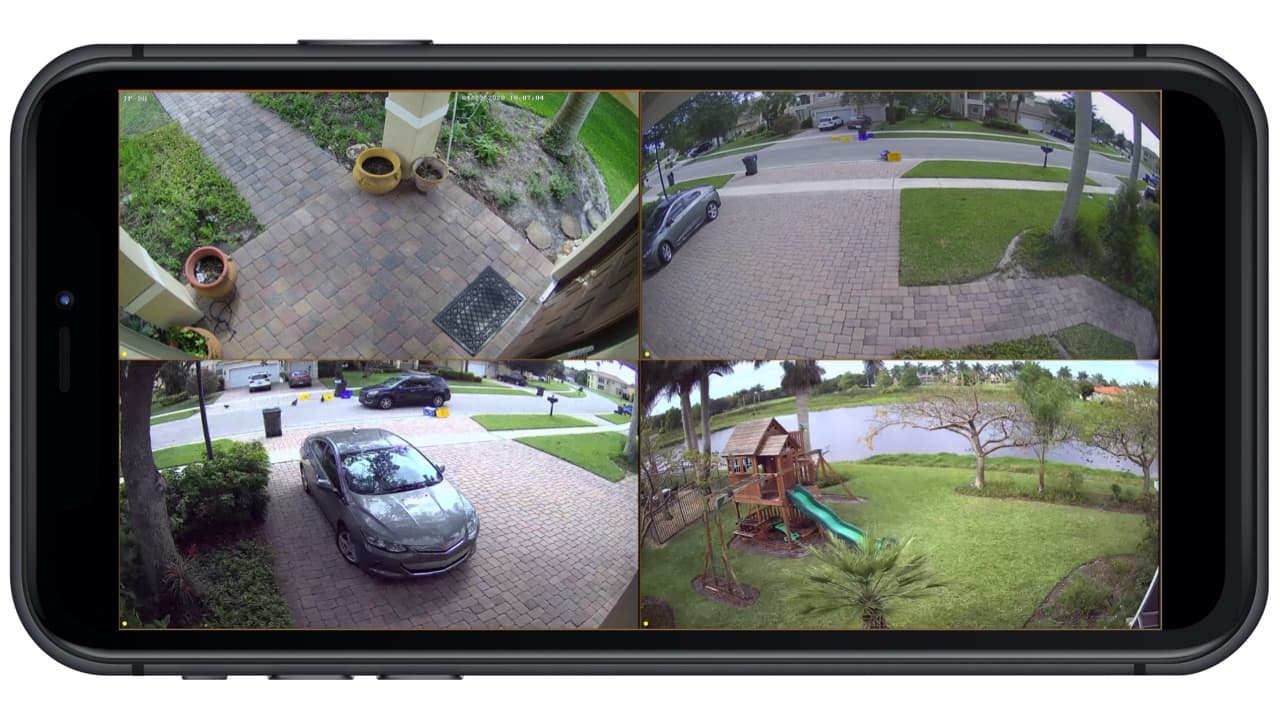 Watch the above video to see a demo of how to remotely view security camera live via iPhone using a Viewtron security camera system. You can learn more about the Viewtron iPhone app here.
---
Android App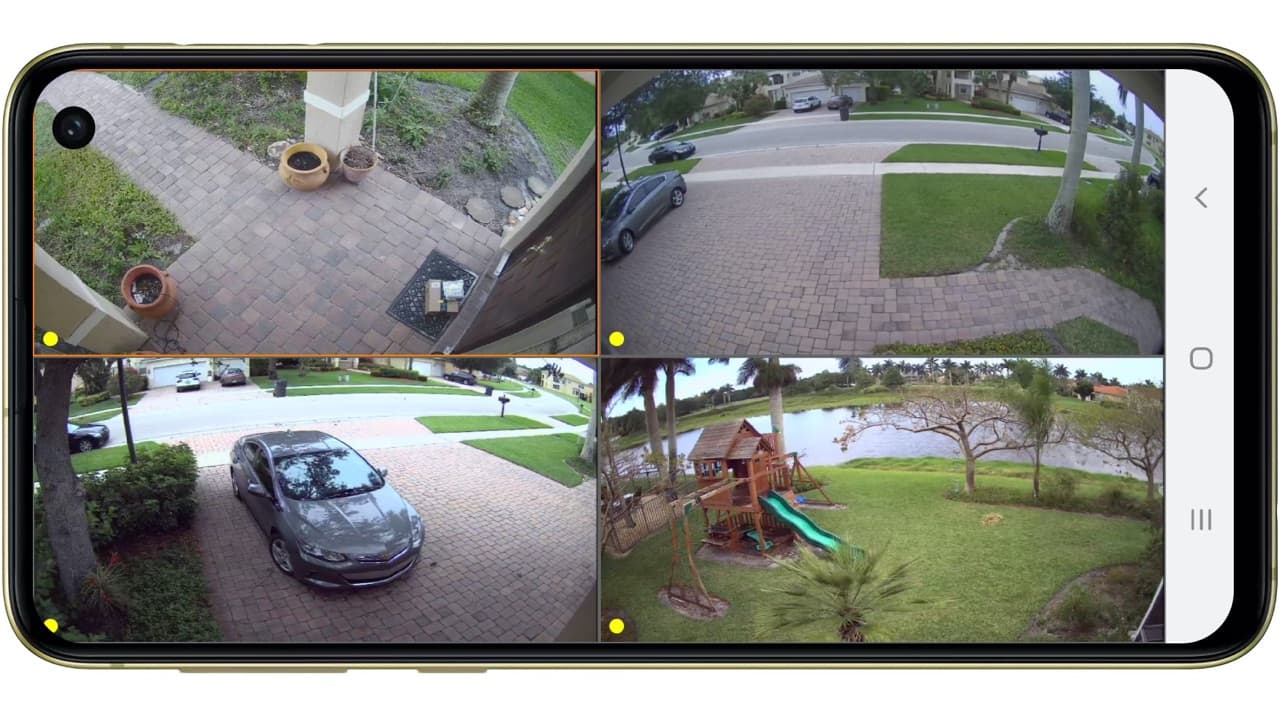 Watch the above video to see a demo of how to remotely view security camera via Android live using a Viewtron security camera system. You can learn more about the Viewtron Android App here.
---
Mac DVR Viewer Software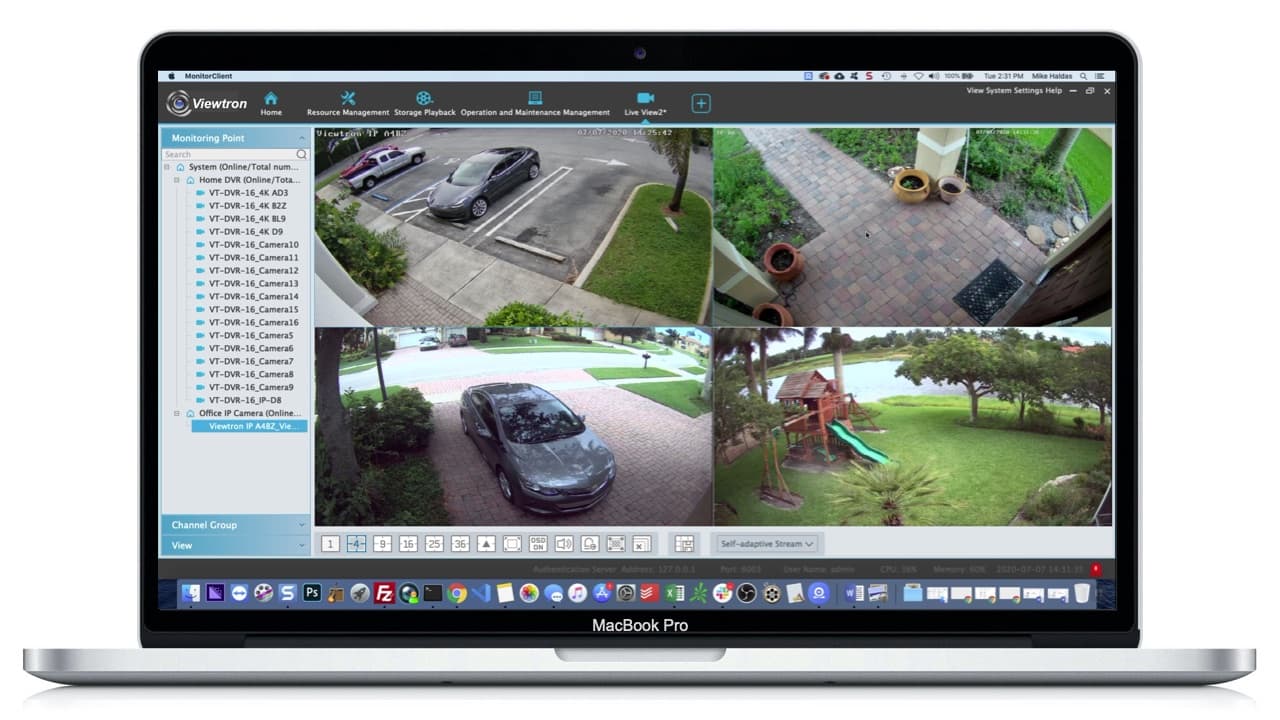 The above demo used the Mac VMS software that is included with Viewtron recorders. The VMS software for Windows is identical in looks and functionality. You can learn more about the Mac security camera software for Viewtron systems here.
---
Summary
If you only need is to display a live view of your security camera(s) on a TV or monitor, a video multiplexer is the way to go. These devices are more cost effective than DVRs because they are so simple in their functionality. If you desire to view your cameras remotely and / or you are considering the ability to record video from your system later, then it makes sense to invest in a surveillance DVR / NVR now.
---
Security Products, Articles & Videos
---
Video Transcript
Here is a full text transcript of the video at the top of this page.
Good morning everyone, Mike from CCTV Camera Pros here. Today I want to talk about the difference between a CCTV video multiplexer and a security camera DVR. So first off, what is a video multiplexer? Basically, a video multiplexer is a device that can take inputs from multiple security cameras, BNC Security Cameras specifically, this could be analog or HD-over-coax, takes the input from multiple cameras and combines that video signal so you could have a live display of multiple cameras on one screen. That's basically what a video multiplexer does. And multiplexers are a very simple device, all they're designed to do is to combine those video signals and to provide a live display. Now, you can have multiple screens, so you can have a grid of four cameras and the display scroll to another view. They can do other simple things like that, but the main idea is they're for live display, not recording.
Okay, so let's talk about security camera DVRs now. Security camera DVRs obviously are meant for recording video surveillance, that's the main thing they're used for, but they also have built in video multiplexing capability. So in addition to the recording capability of… Let's take our Viewtron hybrid security camera DVRs for example. In addition to all the security and recording capability, they also have really amazing live video display capability where you can program custom sequence and custom layouts, basically it's a built-in video multiplexer for live display as well. And in addition, Viewtron hybrid security camera DVRs and most of the other DVRs on the market out there also have really robust remote viewing capability. So they could be connected to a network, you could log in remotely from iPhone, Android, Windows, Mac, and view your security cameras remotely. And in most cases, our Viewtron system support this, you can actually search and playback recorded video.
So why would you buy a video multiplexer and not a DVR and vice versa? If your goal is strictly for live display, and we sell video multiplexers for all kinds of applications. We have manufacturers that use these devices to monitor manufacturing processes, we have homeowners that use it to display a nice live view if they have some nice view of something and they want that displayed on a TV downstairs and the view is from their deck, things like that, we have dance studios and karate, dojo's that use it in the waiting area for parents to display a live view of their kids while they're in class. So is all kinds of applications for a live view.
If your intention is also to access your cameras remotely then go with a DVR. Even if you're not going to use the recording capability of our Viewtron surveillance DVRs, if you also want to live display remotely from your mobile phone or from desktop, leverage the multiplexer capability of a DVR and the network capability of a DVR so you have local live display and remote live display. Also, maybe your intention initially is to not do any video recording but you think maybe later that might be a possibility, well these DVRs don't cost that much more than a multiplexer. And we can supply DVRs that are hard drive, so they're cheaper to buy upfront. And then later, if you decide you want to have recording video surveillance, you can easily pop in a hard drive to one of these DVRs. And now in addition to acting as your local video multiplexer, now it's acting as a security camera system and recording that video as well.
So I hope this video is helpful in explaining number one, what video multiplexing is and how a simple video multiplexer is designed for a local live display on TVs and monitors, and how you can also leverage a DVRs video multiplexer capability. And if you want remote viewing and possibly recording in the future, that's built in as well. If you have any questions about any of this, you can reach out to me any time. I could be reached via email at mike@cctvcamerapros.net. If you want to learn more about CCTV video multiplexers, and I'll be posting this video on the page as well, please visit www.cctvcamerapros.com/mux, that's M-U-X. Thank you for watching.