How to Upgrade a CCTV System to an HD Security Camera System
This article will discuss how to upgrade an analog CCTV camera system to an HD security camera system. Let's get some terminology / definitions out of the way first. Analog CCTV camera systems refers to video surveillance systems that use traditional standard definition (SD) analog cameras that are hard wired to a DVR using coaxial cable. Analog cameras generally support CIF (352 x 240), D1 (704 x 480) or 960H resolution (960 x 480).
HD security cameras (HD over Coax) and HD video surveillance systems refer to the newer generation high definition CCTV cameras and DVRs that use the same coax cable as traditional CCTV, but support 720p (1280 x 720), 1080p (1920 x 1080), 3 megapixel, 4 megapixel, or 4K /UHD video resolutions. If you want to see a comparison of video resolutions of HD security cameras vs SD cameras or learn more about HD-over-Coax technologies, please check out these articles.
Can I Upgrade My CCTV System?
Can I upgrade my CCTV system to HD over coax? If you purchased an analog CCTV camera system in the recent past, you may be feeling that you should have waited for 1080p HD security cameras. Maybe you are now wondering if you can still use some of the equipment from the original system purchased and upgrade to HD. Below are some points for you to consider and a lot of it is good news.
---
HD CCTV Camera Cable

Can I use my existing coax cable when I upgrade to 1080p BNC cameras? If you used RG59 or RG6 coax cable to run the video from your CCTV cameras back to your DVR, there is good news when it comes to upgrading. You can use this same cable to run video from HD security cameras, including AHD, HD-TVI, HDCVI, and HD-SDI camera types.
One special note when it comes to HD-SDI cameras: the distance that you can run video from SDI cameras is more limited than the other HD over coax technologies. Generally, you can not run coax cable longer than 200 feet to SDI cameras unless you use powered HD-SDI video repeater. AHD CCTV cameras, HD-TVI cameras and HD-CVI cameras are able to use RG59 up to about the same distances as analog CCTV cameras, which is about 700 feet. If you need to run cable further, you can use an HD over coax video amplifier.
If you used spools of RG59 Siamese cable on your original installation, there is more good news. You can also use the 18/2 power wire to run power to HD cameras, just as you did CCTV. The BNC connectors and power plugs are the same too.
If you used pre-made CCTV camera cables, you may be able to re-use your cable if they are rated for HD cameras.  Pre-made BNC cables typically have a stranded code (instead if solid copper) so they are more flexible for installation. If they are a thinner gauge cable, then you need to test to be sure. HD cameras generally require coax cable of RG59 gauge or greater.
---
CAT-5 Cable / UTP Cable with Video Baluns

Can I use my existing CAT-5 cable? If your existing surveillance system uses CAT-5 or another type of UTP cable supported by video baluns, you may be able to leverage that cable when upgrading to HD over coax. Many existing CCTV systems use CAT-5 connected to video baluns in order to run video from cameras to a DVR. Some of the new HD technologies also support CAT-5 / UTP and video baluns. For example, these HD video baluns support AHD, HD-TVI, and HD-CVI cameras. Unfortunately, HD-SDI cameras do not support UTP cable with video baluns. You must use coax cable with SDI cameras.
---
Camera Power Supplies / Power Supply Boxes

Can I use my existing power supply box? Just like CCTV cameras, HD security cameras use either a 12V DC or 24VAC power supply. If you have an existing 12V DC power supply box, you should make sure that the HD cameras that you purchase are also 12V DC. Same goes for 24VAC. You should also confirm that the amperage required by the HD cameras is within the range supplied by your power supply box.
If your current system uses individual camera power supplies (pictured above on the right), the same rules apply. If you want to leverage your individual power supplies, make sure that the HD cameras you are upgrading to use the same voltage and amperage.
---
Hybrid SD / HD Security camera DVRs

Can I use my existing DVR? It depends. If your existing DVR is what is known as a hybrid, then yes. If you bought your DVR before 2014, it is unlikely that you have a hybrid. Hybrid DVRs support more than one video standard – typically analog CCTV and at least on HD over coax standard. For example, this surveillance DVR supports analog CCTV cameras, AHD cameras, and HD-TVI cameras. This allows owners to mix and match SD and HD cameras on the same DVR. It also provides a nice upgrade path so owners can use existing SD cameras and later add HD cameras to their system by replacing the SD cameras over time.
Unfortunately, if you have an existing CCTV DVR that is not a hybrid and you want to upgrade to HD over coax, you have to replace your DVR.
---
Security Cameras

Can I use my existing CCTV cameras?  If you want to upgrade from analog CCTV to HD surveillance, you most likely need to replace your cameras. However, as mentioned above, if you have existing analog CCTV cameras that you want to continue to use and you want to add a few HD cameras to your system, you can use a hybrid DVR that supports both analog and HD over coax cameras.
---
4-in-1 Selectable HD over Coax Cameras
4-in1 HD over Coax cameras became available in 2017. They are extremely flexible for installers because they support four video modes. Typically analog CCTV, AHD, HD-TVI, and HDCVI video modes are supported. This allows 4-in1 cameras to be used with just able any surveillance DVR.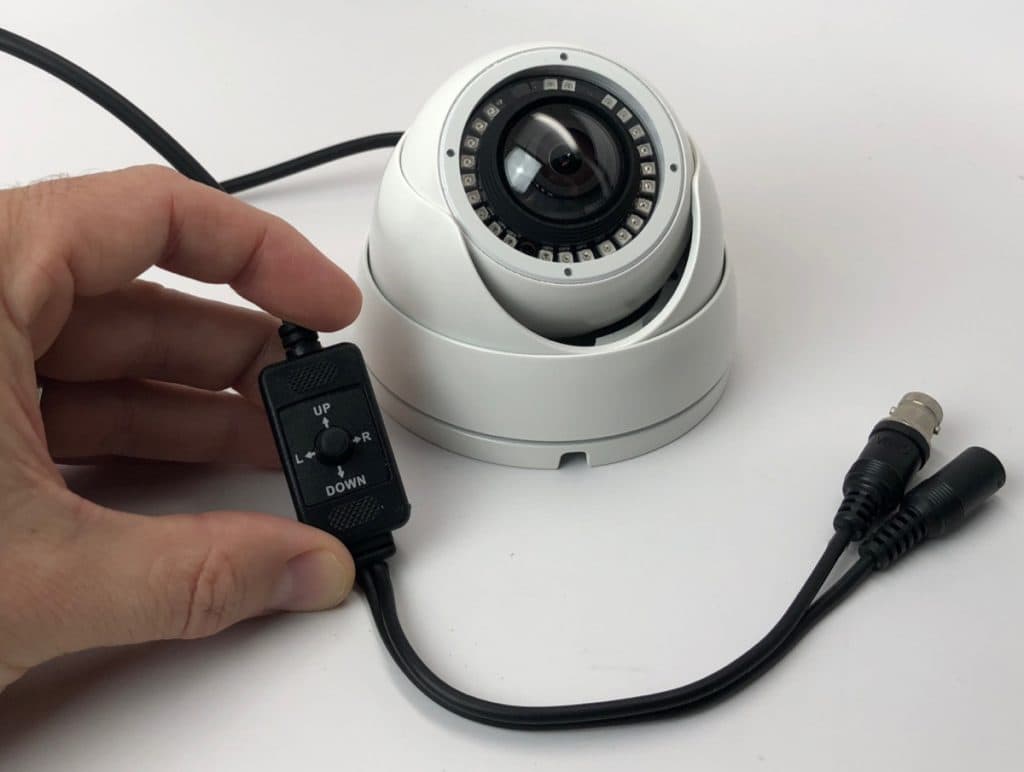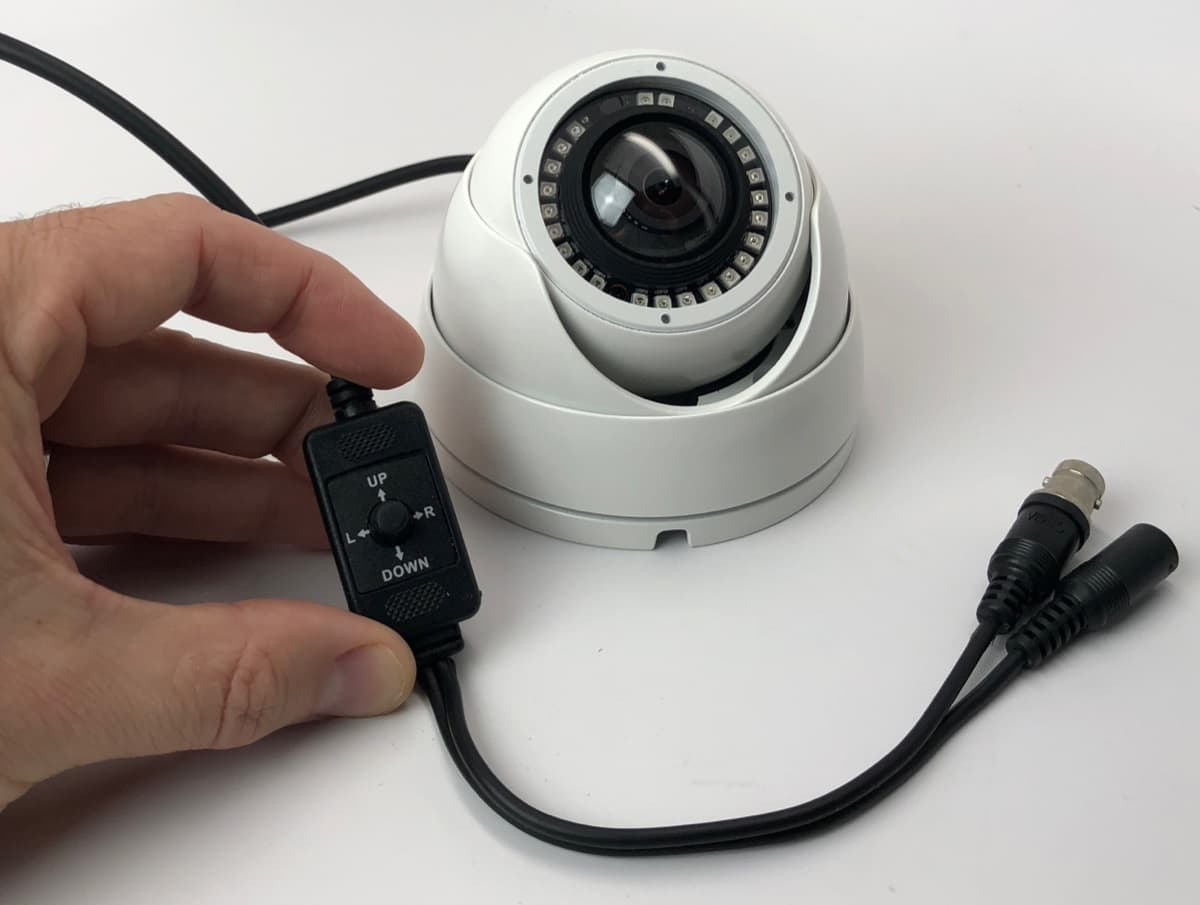 Most 4-in-1 cameras have a small joystick that is connected to the camera's video cable (like the HD-D180 camera above) that is used to select the video mode. 4-in-1 cameras can provide security system owners with an upgrade path to high definition if they currently use an analog CCTV DVR. Using the same 4-in-1 camera, an owner can use their current analog DVR and later purchase a high definition video recorder (AHD, HD-TVI, or HDCVI compatible). When ready, the installer can easily switch the camera into the HD mode when the new DVR is in place.
---
HD Surveillance Resources
If you are interested in researching HD video surveillance equipment further, here are some additional resources that I recommend.